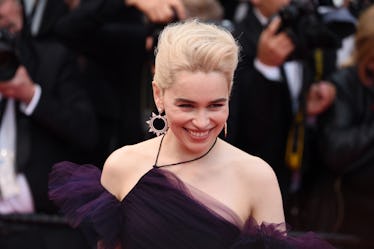 Emilia Clarke Reveals 'Game Of Thrones' Season 8 Details & Confirms That No One Is Ready
Nicholas Hunt/Getty Images Entertainment/Getty Images
Game of Thrones is currently still filming Season 8, but whatever scenes the cast has been been working on the last two weeks, are ones without the Targaryen faction. Emilia Clarke is currently on the Solo: A Star Wars Story publicity tour, which included the Met Gala, Los Angeles, and now the Cannes Film Festival. But even though she's out there touting the Lucasfilm franchise, reporters are still asking her about the HBO one that launched her career. In a new interview, Emilia Clarke reveals Game Of Thrones Season 8 details though, as a seasoned professional at this point, she manages to do so without uttering a single spoiler.
Speaking to Variety, Clarke doesn't give away much about the making of either Solo or Game of Thrones, instead focusing on how she feels about both processes instead. That's a neat trick she's learned from nearly a decade of keeping Game of Thrones spoilers on the down low, and it's one fans see a lot of the cast doing this year. Kit Harington, for instance, has talked about how the scripts made everybody cry, including himself, but never why. Clarke is basically doing the same.
It really feels like preparing to leave home…that's exciting, but it's sad and scary all at the same time.
As for any potential spoilers, Clarke repeats what she's been saying for months now:
It will be what none of us think it will be.
Clarke is also well prepare for discussing the #MeToo movement, which she says "changed" the "temperature... dramatically" in Hollywood. Unlike some of HBO's shows, she's been paid equally to her male co-stars. (Game of Thrones functioned on a "tiered" system" due to the size of the cast.) But when asked about the roles she's taken as "strong women" she immediately hits back, despite her own claim "Khaleesi aside, I'm not naturally aggressive as a human."
Find another adjective, damn it. Enough already with the strong women. Let's just be women.
When it comes to Solo spoilers, her lips are sealed just as tightly. Clarke doesn't even discuss the director turn over, or what might have happened on the set under original directors Phil Lord and Chris Miller. All she says is the transition to Ron Howard in charge was a smooth one.
He took us all in and listened to everyone. He took us from this kind of 'what are we doing' to a place of such ease and comfort and fun.
When the turnover happened, there were rumors certain cast members had complained about Lord & Miller's more freewheeling and take-light style of filming. Clarke doesn't speak to that at all, but her description of the reshoots (which have been reported as extensive) suggest perhaps the stories were right.
[H]er response when she'd revisit certain scenes was, 'Yes, thank goodness. I did not do that well.'
As to how much filming is left for Game of Thrones, Clarke has not declared herself finished yet. Supposedly, filming will go through to the end of June. Clarke has been promoting a fundraiser via Omaze where the prize pack is to hang out with her on set all day and go to lunch. So she'll be heading back sooner rather than later.
Currently, there's reportedly a huge scene being prepped to film in Spain at the location of the Dragon Pit where all the parties met and negotiated last season. The Targaryen delegation's absence from this meeting has not gone unnoticed by fans either. Perhaps Clarke be joining them directly post-Cannes premiere?
Solo: A Star Wars Story arrives in theaters on May 25, 2018. Game of Thrones will turn up on HBO sometime in 2019.