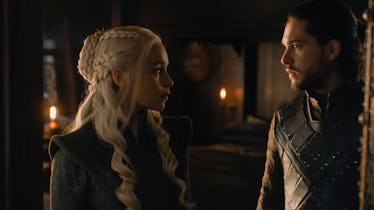 The First 'GOT' Season 8 Photo Of Jon Snow & Dany Is Here & My Heart Can't Take It
HBO
Game Of Thrones has been filming Season 8 for over six months and counting, and the production is still nowhere near finished. Still, despite all they have filmed, there's been nothing out of the official production accounts to give even the slightest hint of what's happening next year, other than the single image of 2019 against a wall of ice to declare that the new season is coming next year. But now finally, the series has released the first Game of Thrones Season 8 photo from the set, and it's adorable.
Featuring Kit Harington and Emilia Clarke, this photo isn't just because Game of Thrones wanted to give us a glimpse of what's happening behind the scenes, or in front of the camera. Instead, this is an image that is being released via Omaze, and is part of the company-wide promotion to raise money for The Royal College of Nursing Foundation, which "provides vital support for the nurses, midwives, and healthcare assistants."
Last month, as part of the effort to raise money, Clarke did everything in her power to give fans what they so desolately wanted: Season 8 spoilers and a look behind the set. Now she's apparently at least got an image released to whet our appetites.
All together now: AWWWWWWW.
But is this really a photo from Season 8? Because it doesn't really look like it's Westeros at all. It looks like backstage, in a half-built set. On the other hand, perhaps the rumors that Rose Leslie should be worried are true? (Highly doubtful. Kit Harington's not that dumb.)
No, this is just a photo that Harington and Clarke did in order to help keep interest high in the campaign to raise money. It's a picture to help spread awareness of the chance to win a chance to go backstage with the cast as they film Season 8 and have lunch with Emilia Clarke herself.
To enter the contest, head over to the Game of Thrones Omaze page. Fans can enter for $10 a pop. (And you can enter multiple times! $100 gets you ten entries!) For those not in the U.S., that's £7.10 a pop if you're in the UK/Northern Ireland, or 8.10€ if you're in the EU.
If selected, one lucky fan (and their friend) will win the following:
Lunch with Emilia Clarke
A sneak peek of what it's like on the Game of Thrones set in Belfast
A flight to Northern Ireland, staying in a 4-star hotel
If you missed Clarke's video where she tries to show fans around backstage, here it is:
To quote the Omaze website on this awesome opportunity to see the forty-foot boom lifts that stand in for dragons:
Hold onto your dragon—you're joining Emilia Clarke (the First of Her Name, Queen of the Andals, Breaker of Chains, Khaleesi of the Great Grass Sea, etc.) for a behind-the-scenes peek of Westeros. That's right, you and friend are headed to the real home of Game of Thrones in Belfast, Northern Ireland! Once there, you'll get to ask Emilia all your burning questions over lunch with The Unburnt herself. And because you'll be with the rightful(ish) heir to the Iron Throne, you and your GoT-loving friend will have exclusive access to see things like costumes, props and more. Whether you bend the knee or not, you've pretty much won the Game of Thrones. Flights to the realm and hotel are on us.
Game of Thrones will not air this year, so it's fun charity stuff like this that will have to help get the show's faithful through this Long Night. (Either that or casting spoilers like the ones posted yesterday.)
Game of Thrones Season 8 will eventually return to the airwaves when it's good and ready, in 2019 on HBO.