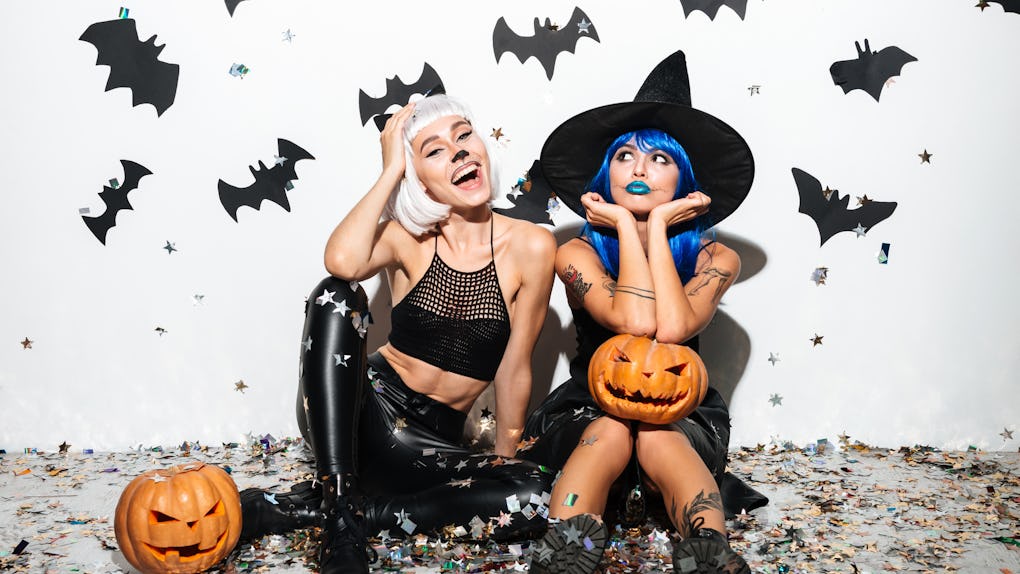 Drobot Dean/Fotolia
Elite Daily's Latest 'Gen Why' Video Perfectly Describes Why Halloween Is The Most Extra Holiday
We all know that once Halloween season rolls around, we majestic creatures and basic witches of the night are in our prime. That's because Halloween is extra AF, people. If you're in complete denial of your extra-ness, and simply do not want to let it shine bright like the full moon, you can sip on that haterade all you want. But you know, deep down, that you love every damn second of the holiday and are holding back taking your broomstick for a spin as we speak. If you're rolling with the denial crew, you might be wondering exactly why Halloween is "extra," and Elite Daily's latest Gen Why episode pretty much sums it up, complete with all the tricks and treats you'll need to be convinced. After watching it, I'm pretty certain you'll be in your glory, embracing every aspect of this incredibly extra holiday.
'Tis the season of unicorn dust, ghosting, trickery, and relaxing in a bathtub overflowing with M&Ms (obviously). Here are six reasons why Halloween is the most extra holiday there ever was, or will be. This one's for you, all of my fellow extra queens out there. Author Rose Pressey truly said it best when she named her mystery book, If You've Got It, Haunt It. Words of wisdom, people.
1. You're Here For Coordinating A Costume With Your Fur Baby
If this isn't extra AF, then life itself has been a complete and utter lie this entire time. Once Halloween rolls around, you (quite obviously) jump on the opportunity to rock a matching costume with your pet, your main squeeze. Of course, your pup is all about that extra life as well.
Matching pink unicorn costumes? Here for it. And don't even try to deny this one; we all know your storage space is full because you have far too many professional shots of the fur bae on your phone. Halloween is the prime time to capture many more gems to #bless your Insta feed with. Bring on the glitter and glam, people.
2. You Can Actually Be A Witch IRL, No Apologies Necessary
That annoying coworker who you honestly cannot stand, but always smile at them anyway? It's time to whip out the saltiness, and keep it coming. Just make sure you roll into the office with your blinged-out witch hat and squad of flying monkeys (which I'm more than certain you already thought of). Bow down, witches.
3. You Can Embrace Your Inner Unicorn And Throw Unicorn Dust Every-Freaking-Where You Please
That's right. On Halloween, you don't even have to try to mask how high you rank on the extra scale. This means you can channel the majestic creature you've always (high-key) wanted to be.
Being equipped with a Unicorn Frappuccino in hand at all times of the day for Instagram purposes is beyond necessary. Throw that unicorn dust like it's your damn job, extra queen. On any other given day of the year, your friends and coworkers may very well want to betch slap your unicorn self if you throw magical dust at them (and, same). But on Halloween, live it UP.
4. You Can Eat As Much Candy For Breakfast, Lunch, And Dinner, Because It's F*cking Halloween, Witches
In this scenario, Buddy from Elf is quite literally your spirit guide. OK, maybe you'll get a wretched stomachache by the end of the day, but honestly, who even cares?
Once Halloween hits, you're prepped and ready to go with your chic, bedazzled, and festive tote filled to the brim with sweets galore. All of your coworkers will be extremely jealous in every meeting you walk into, because duh, you're not sharing! Hands off my chocolate, ghoulfriend.
5. You Can Ghost Someone Who Ghosted You (In The Name Of The Holiday's Iconic Mascot)
Call this one a tad dramatic AF, but naturally, what better day to hit up the dude who came crawling back after he ghosted you, only to ghost his sorry ass? I mean, Halloween is all about ghosts, goblins, pumpkins, and being extra, right? In the name of the holiday, it's only appropriate to ghost this goblin, and you'll walk away with some epic satisfaction.
6. Your Desk Looks Like A Blinged-Out Display Straight Out Of A Craft Store
A display of assorted glittery pumpkins and skulls? You've got them. A trendy chalkboard with a countdown to Halloween? Hell-freaking-yeah. A handle of pumpkin pie vodka? You've already cracked it open. A vase filled with black roses? Obviously, because "extra" is your middle name.