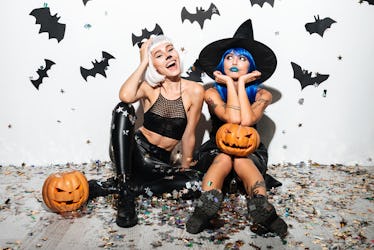 Elite Daily's Latest 'Gen Why' Video Perfectly Describes Why Halloween Is The Most Extra Holiday
We all know that once Halloween season rolls around, we majestic creatures and basic witches of the night are in our prime. That's because Halloween is extra AF, people. If you're in complete denial of your extra-ness, and simply do not want to let it shine bright like the full moon, you can sip on that haterade all you want. But you know, deep down, that you love every damn second of the holiday and are holding back taking your broomstick for a spin as we speak. If you're rolling with the denial crew, you might be wondering exactly why Halloween is "extra," and Elite Daily's latest Gen Why episode pretty much sums it up, complete with all the tricks and treats you'll need to be convinced. After watching it, I'm pretty certain you'll be in your glory, embracing every aspect of this incredibly extra holiday.
'Tis the season of unicorn dust, ghosting, trickery, and relaxing in a bathtub overflowing with M&Ms (obviously). Here are six reasons why Halloween is the most extra holiday there ever was, or will be. This one's for you, all of my fellow extra queens out there. Author Rose Pressey truly said it best when she named her mystery book, If You've Got It, Haunt It. Words of wisdom, people.