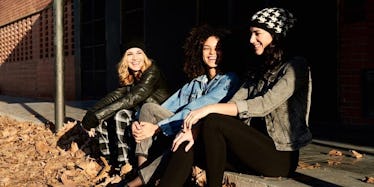 7 Reasons Why Fall Is Truly The Best Season To Be Basic
Guille Faingold/Stocksy
Sometimes when someone calls you "basic," it may trigger something in you and you get a little defensive. However, when it comes to the beloved fall season, I say, "bring it on!" It's the one time of year I am so proud to be totally basic. I love literally everything that has to do with the fall. The sweaters, the pumpkin patches, the apple picking with your squad, and even the Pumpkin Spice Lattes make me feel happy AF. I want it all, please. It's clear fall is the best season, and it allows us to fulfill every single one of our #basic needs.
You don't have to worry if you're overdoing the whole fall thing. There's no way you can go overboard when you're getting into the festive fall spirit. I can guarantee you everyone else is just as excited, and right there with you on line to purchase a PSL. There's just something about that crisp air that has us all hooked on the first day of autumn. We want to retreat back to the things that make us all warm and fuzzy inside; the season reminds us to be a kid again, and enjoy the simple things in life. So, here are seven reasons why fall is the best season to embrace being #basic.
1. Sweaters Are Cute And Cozy
A comfy oversized sweater is my go-to clothing item. It's an essential for any fall wardrobe. Not only is it cute and so cozy, but it can be styled up with a collar or dressed down with a pair of jeggings. Once sweaters start making their way back onto store shelves for the fall, we seriously cannot wait to wear them all.
2. Even The Drinks Get Into The Seasonal Spirit
The inner child in us all craves a seasonal treat to start our fall mornings off on a sweet note. Most of the year, we're sipping on coffee, but when fall returns, the Pumpkin Spice Latte we missed so dearly makes a necessary comeback. In addition to the PSL, there are so many festive drinks popping up on menus everywhere that you really cannot pass them up.
3. You Get To Play Outside
The fall is a great time to go outside and play all afternoon. Football season is back, and there are piles of leaves on pretty much every corner. If you're not drawn to spending your days outside having fun and chilling in the park, you're really not seizing the season.
4. Nature Is Begging You To Take Lots Of Pictures
Everything is a welcoming, warm shade of orange and red in the fall. If that's not nature begging you to step outside and take lots of pictures, I don't know what is. Fall is basically like the friend who wants a million Instagram photos taken, so you can constantly update social media. We're not complaining; we're right there with our girl squads snapping away.
5. All Of The Fall Smells Are Back
There are so many wonderful scents that come with the fall, like pumpkin spice, cinnamon, caramel apple, and even Halloween candy. The fall is a perfectly acceptable time to be totally basic and stock up on as many candle scents as you possibly can. Let them burn all season long.
6. There Are Sales Galore
You can't escape the store sales this fall. There are back to school sales, post-Halloween candy sales, and even Black Friday sales. You're seriously encouraged to go to the mall in the fall to update your flannel game. And, after all, the mall is a great place to recharge with your girls.
7. You Get To Embrace The Rustic Life
The fall is all about going to local farms and festivals. There are pumpkin patches, apple picking, corn mazes, haunted houses, farmers' markets, and petting zoos. You're allowed to embrace your #basic needs for a rustic life. You can throw on your favorite pair of fall boots and take your squad to a farm for a day of fun. You will get to hang with your girls, take adorable Instagram photos, and be surrounded by all things pumpkin.