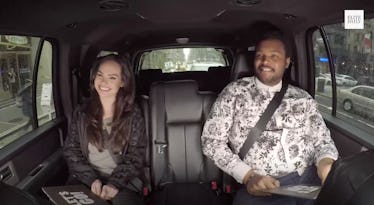 Elite Daily's 'Backseat Blind Date' Is Like Uber Meets Tinder & It's Adorable
It used to be that when I called an Uber Pool, I only hoped that my carpool buddy would be pretty chill. I didn't want a guy with a hacking cough, or a girl who's screaming into her phone, or someone carrying a live chicken (I live in New York, I've seen weirder things go down in cars, OK?). But now that I've seen Elite Daily's video series, Backseat Blind Date, my standards are way higher.
In case you missed the first episode of Backseat Blind Date, here's the deal: an unassuming passenger thinks they're getting into a regular car, but they're actually stepping in front of Elite Daily's camera crew. The driver explains that, no, sorry, this is not a regular ride-sharing service... it's a blind date! If the passenger is game, the driver will pick up their match, and the two will have to compete in a series of games in order to win prize money. Once the driver reaches the final destination, she gives the two potential lovebirds a choice. They can either split their prize money and part ways, or they can leave the car together and spend their winnings on a sweet date. That's right, this random car adventure leads to cold, hard cash, no matter what happens. I wish all my dates were like that.
In the episode below, Kim, a 24-year-old who works in entertainment, is the first passenger to get picked up. And despite all the hijinks, she's surprisingly calm about the whole thing — if she's nervous, she hides it well. She's game enough to pick up her date, who turns out to be Aaron, a 28-year-old who works in data entry (how Chandler Bing, am I right? Could these two be any cuter?).
As they drive through rainy Manhattan, Kim and Aaron embark on a series of wonderfully weird challenges, from the ultra-bold (uh, guessing the color of each other's underwear within 30 seconds of meeting) to the spiritual (testing their knowledge of zodiac signs). But do the games bring Kim and Aaron closer together? Or do the zany tasks make for an awkward encounter? It's tough enough to feel a spark the first time you meet a potential date — I can only imagine that it's even harder when you're bumping through traffic with a camera in your face and no time to even ask, "Wait, so where did you say you were from?" Even cool and collected Kim says she's sweating profusely.
I won't spoil what happens between Kim and Aaron, but let me just say this: I didn't expect to fall just a teensy bit in love with both of them. They're gems.
Truth be told, Backseat Blind Date is a pretty ridiculous way of meeting someone. But in a world where you can find love by swiping through dating apps from the comfort of your own couch or by sliding into a cutie's DMs, nothing is off limits anymore. The next amazing person you date could be anywhere — even in the back seat of the car you're taking to work.
Even if your driver isn't actually Cupid wielding a bunch of arrows (or a camera crew), you can still take inspiration from Backseat Blind Date. Think your fellow ride-sharing passenger looks interesting or attractive? Don't be afraid to strike up a conversation. In the worst-case scenario, you guys will make small talk together for a few minutes and then will probably never see each other again. But in the best-case scenario, you'll hit it off, wind up with an amazing date, and have a seriously cool story to tell your friends.
Just remember to give your driver a five-star rating.
Catch new episodes of Backseat Blind Date every Tuesday on Elite Daily.