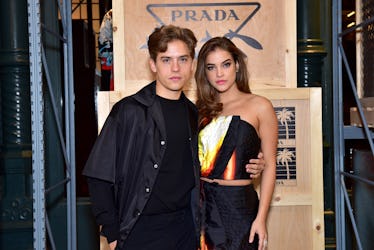 Dylan Sprouse & Barbara Palvin's Astrological Compatibility Shows A Passionate Connection
Sean Zanni/Getty Images Entertainment/Getty Images
If you think you ship Lili Reinhart and Cole Sprouse, just wait until you get a load of Dylan Sprouse's romance with model Barbara Palvin. I think they may actually be the hottest couple in Hollywood right now. If you're just now getting into the whole Sprouse/Palvin loop, don't worry — it's fairly new. They haven't shared much about their relationship, so naturally, it's time to look to the stars and get some insight on Dylan Sprouse and Barbara Palvin's astrological compatibility, to see if this couple has what it takes to go the distance. Fingers crossed!
First thing's first, here's what we know about Sprouse and Palvin's romance. The pair first started making waves when Sprouse posted a picture of the two of them on Instagram hanging out together in Russia at the World Cup. The photo's since been deleted, but screenshots of videos are still easily searchable. Since then, they have continued to be adorable, with Palvin posting photos of "my love" on Instagram — and, of course, we can't forget their super flirty antics on the red carpet at Harper's Bazaar's ICONS party, where, let's just say they put the public in PDA.
Aside from what we've seen on social media and the red carpet, we don't actually know much about this couple's relationship dynamic — which brings us back to their astrological compatibility. Sprouse was born on Aug. 4, making him a Leo, and Palvin was born on Oct. 8 under the sign of Libra. Here's what we can guess about Sprouse and Palvin's love, based on their zodiac signs.