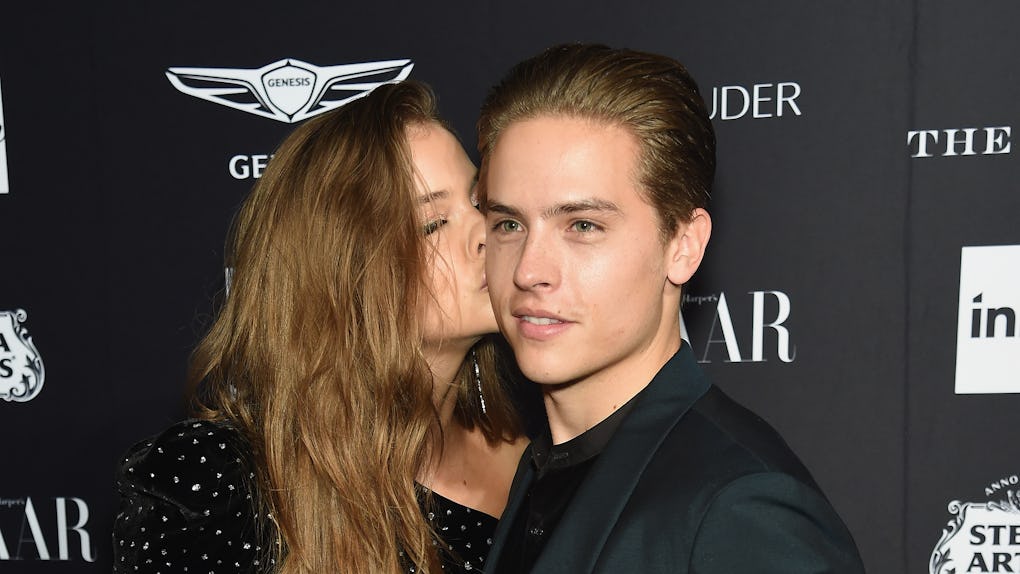 Dimitrios Kambouris/Getty Images Entertainment/Getty Images
Dylan Sprouse & Barbara Palvin's Red Carpet Body Language Is Like A Rollercoaster
For the past few months, it's felt like Cole Sprouse's relationship with his Riverdale co-star Lili Reinhart was all anyone could talk about. And for good reason. They're adorable together. But now, his brother is making headlines with his steamy new relationship. In case you missed it, Dylan Sprouse and Barbara Palvin's red carpet body language at Harper's Bazaar's ICONS party just a few days ago was nothing short of, well, sexual. To the untrained eye, it really just seemed like the couple couldn't keep their eyes (or hands) off of each other.
Some backstory: Sprouse has been rumored to be dating Palvin, a Hungarian model, since they were spotted attending the World Cup together and then flying back to New York together back in July. Since then, they've made a few more public appearances together, but nothing really confirmed their romantic relationship until this red carpet appearance.
Obviously, this is a new relationship and we know essentially nothing about their bond as a couple, so we're really trying to get any intel we can on what their dynamic is like. Here, Traci Brown, body language expert and author of Persuasion Point, tells Elite Daily everything and anything there is to learn about Palvin and Sprouse's relationship based on their red carpet chemistry.
Her answers were definitely surprising. While the untrained eye might just see them as a flirty couple, Brown has a totally different take on the matter.
She's super into him, but he's more focused on getting attention.
Brown believes this image might be "the truest one" of all the images from this evening. "She's really into him with the kiss and blocking the crowd out with her eyes closed but he's most interested in the camera and the crowd," she says.
They're not always in sync.
Here, Brown highlights the sudden change in their vibe. "She's blocking him out as he's flicking someone off," she explains. "They're really on different pages all of the sudden."
She may be smiling but she's not into whatever he's doing here.
When I saw this image, I immediately thought of a happy couple totally in love. Boy, was I wrong. "She's still leaning away from him," Brown points out. "[She's] not into whatever he's up to."
At the end of the day, they know what they have to do on a red carpet.
After all the silliness in the pictures from earlier, here, Brown says "they're back to looking poised as a couple. Both focused on the task at hand."
Of course, they couldn't keep it together for too long.
"He's showing off for the camera — making sure everyone knows how great he thinks she looks," she says. "I've never seen his pose on the red carpet before!"
Aaaaaand they're back to being out of sync.
While Brown points out that they do seem to be reaching for each other, she also notes that "he's focused on her and she's focused on the camera."
In general, Brown sees their all-over-the-place body languages in these pictures as a good indicator of how their relationship will be, as a whole. "I wouldn't be surprised if this how their relationship goes," she says. "Up, down and all around. But they meet at certain points when it's spectacular. And we learned it all in just a few pics."
Here's to hoping they have more spectacular moments than not!