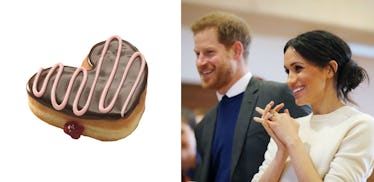 Dunkin' Released A New Donut In Honor Of The Royal Wedding & It's So Sweet
Dunkin' Donuts/ Pool/Getty Images Entertainment/Getty Images
Love is in the air as the world prepares to fête the nuptials of Prince Harry and Meghan Markle. What better way to celebrate all that romance than by indulging in some self-love, especially in the form of a sugary treat? Enter Dunkin' Donuts' royal love donut, which is here to sweep you off your feet. In honor of the couple's highly anticipated wedding on Saturday, May 19, the popular donut chain is giving everyone the royal treatment with the launch of a new heart-shaped confection. The company is even presenting the opportunity to perfect your own "princess wave" with a dreamy carriage ride through New York City.
Dunkin' Donuts announced on May 8 that it will be playing homage to Prince Harry and Meghan Markle's fairytale love story ahead of their big day with the release of the heart-shaped royal love donut — and it sounds like it's pretty much guaranteed to give us all the butterflies. Not only does the sweet treat pull at our heart strings with its symbolic shape, but the jelly filling and layers of chocolate and strawberry icing can't help but also romance our taste buds. It's a win-win.
"As the U.S. donut leader, we love helping our guests make special occasions both big and small even sweeter with fun donut designs and flavors," Dunkin' Brands Chairman and Chief Executive Officer, Nigel Travis, said in a press release (he happens to be a U.S. and British dual citizen, BTW). "The Royal Wedding represents optimism, happiness and joy, and thus is a perfect opportunity for our brand to celebrate. We hope all donut lovers, royalty or not, will enjoy the new Royal Love Donut this week."
Before you start planning on enjoying this donut forever, keep this in mind: Unlike Prince Harry and Meghan Markle's lasting love, the Royal Love Donuts are only around for one week starting May 14 and running through May 20 at select Dunkin' Donuts locations. On the bright side, this gives you the perfect excuse to stock up on all the goodies in anticipation for your royal wedding watch party. Speaking of sugar comas, Dunkin' Donuts opens at 5 a.m. on March 19, so you can pregame the event with dozens of Royal Love Donuts. And because Dunkin' Donuts is giving us an extra day to bask in the romance, you can even go in the next morning to get some fresh donuts to fend off that mimosa-induced hangover.
Although Prince Harry may be off the market, Dunkin' Donuts is also helping us live out our dreams of playing princess IRL with a fairytale-inspired carriage ride through New York City's Central Park. Considering that the royal lovebirds will be making their first newlywed appearance by riding through the town of Windsor in a horse-drawn buggy, what better way to celebrate their love than by taking a leaf from their book?
Kicking off the launch of the Royal Love Donut on May 14, a special horse-drawn carriage emblazoned in Dunkin's trademark orange and pink regalia will be making its own royal procession through Central Park. Riders can feast on Royal Love Donuts while taking in the sights, and, because Meghan Markle is thousands of miles away in Windsor, even get a chance to interact with New York City royalty. Real Housewives of New York City star and real-life princess Carole Radziwill will start off the festivities by taking the official first ride of the day.
Now, that's how you put love on the menu. Let the countdown continue to Meghan Markle and Prince Harry's big day (and all the Royal Love Donuts I'm planning to consume).