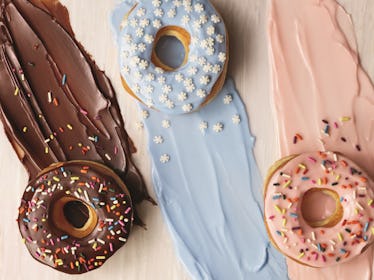 Dunkin' Donuts Just Made A Huge Change To Its Menu & It's Probably For The Best
I don't know about you all, but I am a Dunkin' Donuts loyalist. My college campus had three Starbucks, but I always found my way back to the one on-campus Dunkin' (which was basically my second home). Maybe it's because I'm from the Northeast, or maybe it's because I can add a delicious donut to my hot chocolate order for only 99 cents (which I almost always do). There are a million reasons to love them, and they've given us one more: Dunkin' Donuts removed artificial dye from their donuts — so go ahead, treat yourself.
According to a press release, "Donuts now sold at Dunkin' Donuts restaurants nationwide are no longer being made using colors from artificial sources." This is part of the company's ongoing efforts to offer guests great-tasting, high-quality products, as well as cleaner menu labels. TBH, I already thought the donuts tasted pretty freakin' good, but knowing that they'll no longer be made with artificial dyes makes them sound even better.
Dunkin' Brands Group, which owns Dunkin' Donuts and Baskin-Robbins, previously pledged to eliminate artificial dyes from all of its food and beverages in the U.S. by the end of 2018.
If you're thinking, "How will I be able to tell the difference between all of the donuts? They're going to look the same," fear not. With the new, non-artificial colors, there will be only minor differences in the appearance of your favorite donuts. In fact, you probably won't notice any difference at all. I'm assuming deeper blue or red frostings might look different — but for the most part, things will look the same. And most importantly, they'll taste the same.
This is great news for those who like to indulge in a sweet treat, but don't want to put a ton of artificial ingredients in their system. Those who are less concerned with artificial dyes might be asking why Dunkin' would make this decision — after all, the donuts tasted fine before. The American Chemical Society reports that while studies have not found a direction causation, artificial dyes have been linked to hyperactivity in children. The UK's Food Standards Agency even imposed a voluntary ban on several types of artificial dyes because of their potential harm, according to Food Network. But on a much more basic level, the less artificial foods you're putting into your body, the better, and this includes dyes. So props to Dunkin' for finding a way for us to have our donuts and eat them, too.
This isn't the only exciting announcement from Dunkin'. The company is launching a new, limited edition donut just for January, to help us ring in the new year with a yummy (artificial dye-free) treat. It's called the Snow Flurries donut (how appropriate during this #bombcyclone). It features a yeast ring donut with wintry blue icing and snowflake-shaped sprinkles. This is a different kind of snow that'll have you feeling a different kind of blue.
Dunkin' has been changing the game with a number of announcements lately. On Dec. 21, 2017, the company celebrated the winter solstice with #DunkinDarker. They implemented the first-ever nationwide animated Snapchat filter, which featured some adorable drawings of the sun, the stars, and snowflakes. They also brightened up the dark day with a livestream and a custom "dark roast" beer, and encouraged customers to indulge in their Rainforest Alliance Certified Dark Roast Coffee, chocolate glazed donuts, and chocolate Munchkins. Hey, you don't have to tell me twice!
If Dunkin' keeps giving us all of these reasons to swing by and grab some of their treats, my New Year's resolution to eat healthier is not going to last. But knowing that their products will be free of artificial dyes definitely makes it worth it.
Check out the entire Gen Why series and other videos on Facebook and the Bustle app across Apple TV, Roku, and Amazon Fire TV.
6knPvLI5