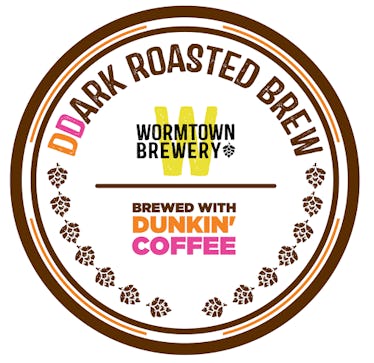 Dunkin' Donuts Beer Is Coming For The Winter Solstice, But There's A Huge Catch
Dunkin' Donuts
Whether Dunkin' Donuts is your hangover cure or just your everyday vice, you may be surprised — and excited — to hear that this December, their coffee is going to be made into a beer, so it now might even be your new favorite pint. Yep, you heard us correctly: Dunkin' Donuts beer exists, but for a very limited time and only at one lucky brewery (for now). So be prepared to get your drink and your doughnut on this holiday season, because drinkmas is coming to Dunkin'.
For all of you lucky and interesting people that also grew up celebrating the Winter Solstice, you're probably aware that our beloved holiday is, in fact, on Dec. 21. So to celebrate the shortest and darkest day of the year, Dunkin' Donuts has officially partnered with Wormtown Brewery in Worchester, Massachusetts, to launch the first draught beer, brewed with Dunkin' Donuts' delicious Dark Roast beans. It will officially be on tap at Wormtown at the beginning of the solstice, at 11:28 a.m.
Appropriately named the DDark Roasted Brew, this full-bodied stout is said to emulate a dark-roasted flavor, reflecting the creamy taste of coffee beans. Since DDark Roasted Brew will be only be available on draught at Wormtown Brewery's Tap Room on Dec. 21, now is probably the right time to finally make that long-intended trek up to the Bay State, for some good ol' DD-lovin'. Along with a ceremonial keg tapping event, DD and Wormtown fans will have the opportunity to enjoy specially crafted donut and beer pairings created by the Dunkin' Donuts Culinary Team, such as the Double Chocolate Cake Donut with DDark Roasted Brew. The first 100 attendees will even receive a goodie bag to kick off the start of winter.
If you're not one of the 184,500 people that live in Worchester, you're probably wondering why DDark Roasted Brew isn't yet being released in your favorite local brewery. Dunkin' Donuts is New England's treasure, and in fact, opened its first franchise in Worchester, where you can actually visit one the first DD shops in the country. Local Dunkin' Donuts franchise owner, Rob Branca, said in a statement obtained by Elite Daily,
We're thrilled to partner with Wormtown to launch DDark Roasted Brew. Worcester is home to one of the first Dunkin' Donuts restaurants so we know how much residents love the brand and our coffee. This partnership with Wormtown continues to drive innovation in Worcester and we are excited to brew up something extra bold to help our loyal guests to celebrate the darkest day of the year.
So although we're relatively upset that we can't get DD beer at our local breweries, it's totally reasonable that the first draught is in Dunkin's hometown. And, if the fact that someone finally brewed your favorite cuppa into a beer isn't cheerful enough, Branca and Wormtown Brewery will be donating $11,500 to the Worcester Food Bank this holiday season, to spread a little extra Christmas cheer to DD's old stomping ground. Scott Drake, Head Brewer at Wormtown said in a statement,
We couldn't be more excited to partner with Dunkin' Donuts on our latest beer. We're confident this beer is going to be an instant favorite for New Englanders this holiday season, and the fact that we're able to give back to Worcester-area families through this partnership just makes it that much better.
So if you didn't already have enough love for DD and/or Wormtown Brewery, you totally do now.
Dunkin' Donuts actually isn't the first fast-food mecca to create a signature pint. You may remember earlier this month, when Taco Bell released their own limited edition beer, called Beach Bell. So if you didn't make it to the West Coast for a Beach Bell, you just might be able to make it to Wormtown for a highly desirable DDark Roast.
Check out the entire Gen Why series and other videos on Facebook and the Bustle app across Apple TV, Roku, and Amazon Fire TV.