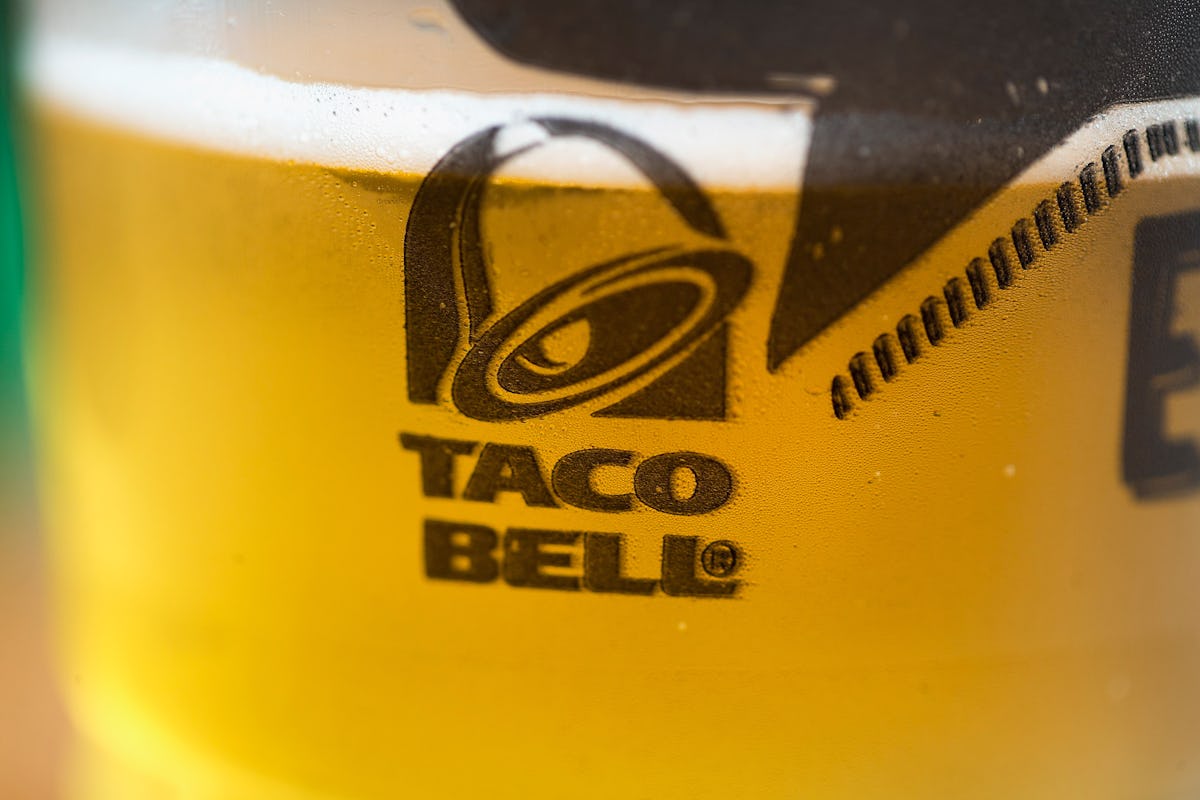 Taco Bell Is Serving Beer In This One Location, So Get Ready To Live Más
Scott Olson/Getty Images News/Getty Images
Taco Bell: the undeniably tasty and beloved Tex-Mex sanctuary we've all come to know and love after a late night out, the morning after, and, sometimes even on a sober Tuesday afternoon. Arguably best known for its Baja Blasts, Mexican Pizzas, and Crunchwrap Supremes, the only thing that could possibly make Taco Bell even better would be... beer? Although it's been discussed for quite a few years now, here's where to buy Taco Bell's latest beer if you're looking to wash down that glorious medley of beef, beans, and cheese.
All we know about Taco Bell's exclusive beer is that it's called Beach Bell, and it's a light Mexican-style Amber Lager, according to a press release. This pairs quite nicely with Taco Bell's entire menu, bringing out its classic flavors and spices. Beach Bell is apparently quite smooth and crisp — ideal for your revered queso-drizzled feast.
Sadly, the seemingly delicious Beach Bell Amber Lager is only around for a limited time, and it's also only available at Taco Bell's newest drive thru-free cantina-style location, in Newport Beach, California. Taco Bell created the Beach Bell with Huntington Beach's highly regarded brewery, Four Sons Brewing, to celebrate the latest cantina opening. So, if you're planning on going to Huntington Beach anytime soon and you're over 21, I definitely recommend you seize the day, "live más," and try Taco Bell's ever-elusive Beach Bell Beer.
If you're unfortunately not able to embark on a magnificent journey to So-Cal anytime soon, but you're really craving a nice alcoholic beverage to accompany your taco, you have absolutely nothing to worry about. In September, Taco Bell announced big plans to build between 300-350 more cantina-style locations throughout major cities, including New York City, Boston, Chicago, San Francisco, and Atlanta. These drive thru-free restaurants, which Taco Bell has named their "Urban Inline Locations," will be serving various types of wine, beer, margaritas, and the best part, obviously, is a line of alcohol-infused slushies. Also, Las Vegas' and Chicago's cantina locations are already open, and Chicago's cantina reportedly has a bouncer. So I guess you're going to have to make sure that you're on your best behavior while ordering your tacos and slushies, because they clearly want no funny business.
But if you're really only looking to spend a dollar at your next beef-and-cheese burrito excursion, Taco Bell has your back. Earlier this month, Taco Bell announced its highly anticipated release of the $1 Stacker, along with 20 new Dollar All-Day Menu items. This will officially begin just before Christmas on Dec. 21. Maybe you didn't believe in holiday miracles before... but I think we're all beginning to see the true meaning of Christmas, and it's starting to smell a lot like a three-cheese blend with a side of refried beans.
So, to our dismay out here on the cold, blustery East Coast, Taco Bell's Beach Bell Beer is only available in Huntington Beach's cantina location for a limited time, as of now. But, with Taco Bell's 300+ upcoming cantina-style locations, we're all going to be able to have so many different drink options to potentially wash down our rice, beans, and obviously, a Beefy 5-Layer Burrito. We won't even be able to think about the Beach Bell Beer FOMO we're all suffering from right now, with so many cantinas on the way. So, when the end of the month comes around and you're snacking on your $1 Stackers and other All Day Dollar items, just remember that Santa isn't the only thing coming to town, because so are Taco Bell's boozy Cantinas.
Check out the entire Gen Why series and other videos on Facebook and the Bustle app across Apple TV, Roku, and Amazon Fire TV.