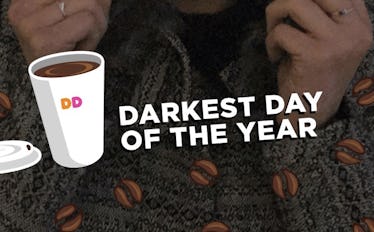 Dunkin' Donuts' First Animated Snapchat Filter Is Here & It's So Wintery
Dunkin' Donuts
For those of you who don't know, today is the shortest day of the year. Unfortunately, this doesn't mean that we get out of work or school any earlier; instead, the "length" of the day is measured in the amount of daylight there is. While this may seem bleak to some, others are choosing to embrace it, including the home of the Coolatta: Dunkin' Donuts. In fact, Dunkin' is celebrating with their very own Snapchat filter. Here's how you can get Dunkin' Donuts' animated Snapchat filter and combat the winter blues.
According to a Dunkin' Donuts blog post, the company is celebrating the winter solstice in a number of ways. We're most excited about the animated Snapchat filter, which features adorable moon, star, snowflake doodles, a steaming Dunkin' coffee cup, and the caption "Darkest Day Of The Year." This is the first time Dunkin' has ever made an animated filter available nationwide. So whether you have eight hours of darkness or ten, everyone can enjoy the super cute filter.
To use the filter, simply take a video or photo using the app, as you normally would. When you're done, you can scroll through the filter options until you find the Dunkin' one, which will lay over your photo or video. The filter will even work when layered on top of a face filter, so if you want to get extra festive or decorative, knock yourself out.
Since the end of daylight savings, there have been many discussions about seasonal affective disorder. Mood dips that can occur with chillier temperatures, inclement weather, and, of course, limited daylight. Tony Weisman, Dunkin' Donuts' Chief Marketing Officer, commented on the season and said, "We know how tough it can be to keep up the positive energy when the days are shorter and darker. As the brand that keeps people running every day, we're welcoming winter and the darkest day of the year ... to inspire our fans to enjoy our Dark Roast Coffee and face and embrace the darkness."
Dunkin' is also switching up its own social media accounts with dark chocolate-y brown avis. The company even changed their official Twitter handle to @dunkindarker — talk about a rebrand. They also hosted a livestream on Instagram and Facebook and are encouraging fans to share their own Winter Solstice celebrations (which hopefully include coffee and donuts) using the hashtag #DunkinDarker.
Beyond social media, Dunkin' has teamed up with Wormtown Brewery in Massachusetts (Dunkin' Donuts' home state), to create a "dark roast" beer. The stout-style beer is called DDark Roasted Brew, and is the first ever beer to be brewed with Dunkin' Donuts Dark Roast coffee beans. I'm not an expert, but I would imagine it might taste similar to Guinness. Unfortunately, the beer is only available at the brewery, but if you're in Massachusetts and you're into that sort of thing, you're in luck. If you're not, consider celebrating with a different dark beer of your own choosing. Still counts, right?
And of course, for those of us who are still working this week (you can do it!), there's Dunkin's 30 percent Rainforest Alliance Certified Dark Roast Coffee. Even if you don't mind the dark skies so much, it can definitely be difficult to keep chugging along at this time of year, especially when the sun goes away so early. So if you need an extra caffeine boost, the Dark Roast might be calling your name. And you might as well grab some chocolate Munchkins for the office while you're at it... or, let's be real, just for yourself.
I can't wait to see everyone's Dunkin' snaps — hopefully they'll help make this dark day a little brighter.
Check out the entire Gen Why series and other videos on Facebook and the Bustle app across Apple TV, Roku, and Amazon Fire TV.