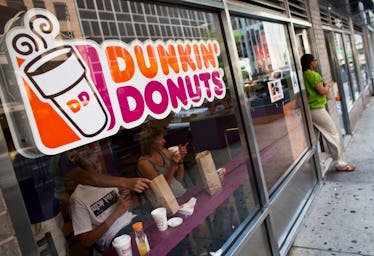 You Can Score $2 Dunkin' Donuts Iced Coffee & Free Donut Fries In October
Ramin Talaie/Getty Images News/Getty Images
When it comes to a good deal, Dunkin' Donuts does not usually disappoint. The doughnut and coffee establishment is currently offering three great deals that will add a little something extra to your mornings and afternoons this fall. Dunkin' Donuts' October deals include $2 iced coffees and free Donut Fries, but only for a limited time. What does it all mean? One thing is for sure. It's time to start planning your next DD run.
I'm always here for a great deal, but especially when it involves coffee and free food. As I mentioned, there are a few different deals here. I'm going to get started with the most timely offer from Dunkin' Donuts that you need to know about. Starting on Friday, Oct. 5, you can get a complimentary order of Donut Fries from Dunkin' Donuts, per a Dunkin' press release. To snag your free treat, all you need to do is order an iced coffee between 2 p.m. and 6 p.m. This deal is only valid at participating Dunkin' Donuts locations through Sunday, Oct. 7. It's a pretty small window, but I'm confident that you'll find the time to swing by and grab your free order Donut Fries.
Next up is a sandwich deal that's too good to pass up. Now through Dec. 30, you can get two Bacon, Egg, and Cheese breakfast sandwiches from Dunkin' for just $5. Dunkin' Donuts' Bacon, Egg, and Cheese isn't your average fast food breakfast sandwich, either. It's made with crispy Cherrywood Smoked bacon, light and fluffy eggs, and melted American cheese nestled between a buttery and flakey sliced croissant, according to Dunkin' Donuts. I can barely get out the door without spending $5 on my bagel and cream cheese, so I'm here for this one. Plus, the deal is good all day long.
Finally, it's time to recharge and tackle whatever comes at you each day with this amazing iced coffee deal. Across the nation, you will be able to order $2 any sized DD Iced Coffees between 2 p.m. and 6 p.m. every day until Saturday, Nov. 18, according to Dunkin' Donuts. In case you are wondering, this does include the chain's latest seasonal offerings like the Pumpkin and Maple flavored blends. I live in Florida, where temperatures are still clocking in at 90 degrees and up. Needless to say, my iced coffee game is going strong and it doesn't seem that there is an end in sight.
Dunkin' Donuts created quite the stir last month when the company announced it would be changing its iconic name after 68 years. Starting in 2019, the chain restaurant — known for its doughnuts and coffee — will drop the "Donuts" portion of its name. In just a few months, the fast-food chain will officially be known as just "Dunkin'."
If you're having a hard time coming to terms with the name change, you're not alone. Some Twitter users aren't quite sure how to feel about the news, while others are all for it. I am one of those people who isn't sure how to feel, but I'll admit that I'm finding comfort in these new fall food and drink offers. I can always count on Dunkin' Donuts to come through with a few solid deals to brighten my day.