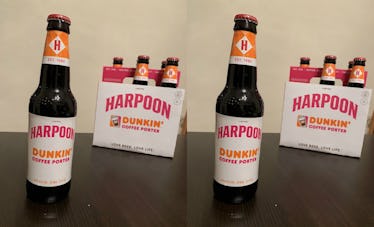 This Dunkin' Donuts-Inspired Beer Combines Your Favorite Flavors In One Tasty Sip
Courtesy of Collette Reitz
Usually, a Dunkin' run involves grabbing your favorite coffee, a DD Donut, and possibly a a tasty snack from the Dunkin' Run menu. Well, get ready to bring your favorite coffee chain to happy hour, because this Harpoon Dunkin' Coffee Porter is about to become your new favorite beer this season. If you're 21 years or older, you'll absolutely love the way Dunkin' Espresso Blend Coffee combines with a delicious craft beer.
According to a Dunkin' press release on Oct. 1, 2018, the Harpoon Dunkin' Coffee Porter will be available to purchase at "select retail locations" where Harpoon Brewery beer is sold across the Eastern United States. Available in both 12-ounce bottles and served on tap, you can enjoy this sip that was created with the idea of how Harpoon brew masters have enjoyed sipping Dunkin' as they concoct the next great craft beer. This time, the two worlds have collided, and now you have this English Porter with "aromas of espresso and dark chocolate."
Speaking of the aromas, I'll get into what this 6-percent ABV brew is all about. According a description of Harpoon Dunkin' Coffee Porter, you'll enjoy the "smooth, roasted" taste that will remind you exactly of your daily morning sip from Dunkin', especially since it combines Dunkin's Espresso Blend Coffee with "Harpoon's famous craft beer."
Both Dunkin' and Harpoon Brewery are excited about this new beverage, and it is the first time they have come together to offer fans of both sips a new twist on their favorites. Dan Kenary, CEO and Co-Founder of Harpoon Brewery, shared in the press release about how much Dunkin' has supported Harpoon's growth. Kenary shared,
Dunkin' has been there for us since the early days when getting the brewery up and running required a lot of beer, and even more coffee. We couldn't think of a better way to pay tribute to the company that's helped fuel our success than to create something special for our fans by combining the taste of their favorite morning brew with one of ours.
With the bottle sporting the classic orange-and-pink Dunkin' colors, there is no mistaking where this English Porter got its inspiration.
Harpoon Dunkin' Coffee Porter is a seasonal sip that will be available through the fall, which makes it perfect for all of the autumn activities that happen outside in the chilly fall air, like tailgates, picnics, and even apple picking. Tony Weisman, Dunkin' Donuts' U.S. Chief Marketing Officer, shared in the press release how "thrilled" Dunkin' is to partner with Harpoon on this new offering. Weisman explained,
Our brands have such passionate, loyal fans, who start their busy days with a cup of Dunkin' coffee and end it by enjoying one of Harpoon's famous craft beers. We're thrilled to now finally bring the two together, partnering with one of the most respected craft breweries in the country to offer coffee lovers and beer enthusiasts alike a classic new taste to celebrate the season.
I don't know about you, but I'm inclined to forgo my fave IPA for a Harpoon Dunkin' Coffee Porter at my next happy hour.
It turns out that combining beer and breakfast favorites isn't all that unusual. IHOP and Keegan Ale recently partnered to brew a Pumpkin Pancake Stout, and IHOPS Pumpkin Pancake Stout is a limited-run beer that should probably make it in the cooler with your Harpoon Dunkin' Coffee Porter for the next tailgate.
I never thought my favorite breakfast items would ever find their way into two different craft brews, but I am very much here for it. 2018 is quite a time to be alive, you guys. Cheers!