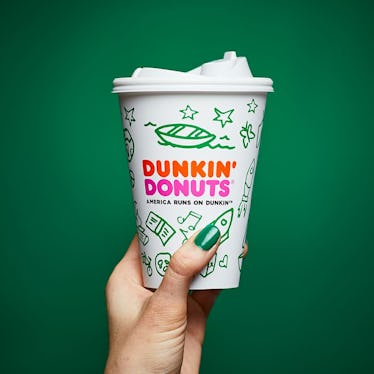 Dunkin' Donuts Wants Your Help Picking Their Next Girl Scout Cookie Coffee Flavor
DUNKIN DONUTS
It's about to get even more delicious for your morning to run on Dunkin,' because Dunkin' Donuts' Girl Scout Cookie coffees are back with all the nostalgia. DD announced that a few of the cookie-inspired sips will be heading back to stores in early 2019, as well as a brand new flavor which will be revealed "in the coming months." I'll toast to that, because combining my caffeine fix and my favorite Girl Scout classics into one tasty beverage is sure to start the new year off on a high note.
According to a press release shared on Monday, August 20, the chain revealed that due to "popular demand," the Girl Scout Cookie-inspired sips are making their return to DD in the coming year. Back in February, the chain partnered up with the Girl Scouts to create brews inspired by three iconic cookie flavors. The Thin Mint, Coconut Caramel, and Peanut Butter Cookie-inspired sips apparently did so well that Dunkin' Donuts is now announcing that it will be "delighting guests with a couple returning favorites, plus something brand new."
Unfortunately, Dunkin' doesn't specify which flavors will definitely be returning (Personally, I'm crossing my fingers for Thin Mints), but I think I have a pretty good idea of the possible inspiration behind their newest drink. Considering that Trefoils and Caramel deLites also rank in the most popular Girl Scout cookies (along with Thin Mints and the peanut butter-heavy Tag-a-Longs, and Do-Si-Dos), I'd be surprised if one of those two flavors doesn't make an appearance when 2019 comes around.
However, if you feel like the new gluten-free Caramel Chocolate Chip cookie would pair perfectly with a Dunkin' brew or you just can't live without a S'Mores coffee, you're in luck. Dunkin' Donuts and the Girl Scouts are asking for input on what the mystery flavor should be, and you can make your preferences known by heading to Facebook, Twitter, or Instagram and sharing your ideas, according to the press release.
As always, your purchase will help fund the entrepreneurial growth of young women, so you can feel extra good about buying that cup of joe. Earlier this year, Barry Horowitz, the Chief Revenue Officer of Girl Scouts USA, opened up about how excited he was to team up with the donut retailer for the delicious new project.
"GSUSA is pleased to work with Dunkin' Donuts to showcase the power of the Girl Scout Cookie Program," he wrote in a February press release. "Not only do girls learn important business and entrepreneurial skills, but they put their earnings toward impactful community projects and leadership experiences—so we are grateful to Dunkin' Donuts for opening up their restaurants around the country to our cookie entrepreneurs!"
Speaking of helping girls, you'll also have the opportunity to purchase dunkable bites with your morning or afternoon pick-me-up. According to the press release, the chain will be inviting local Girl Scout troops to set up their booths and sell Girl Scout Cookies at select Dunkin' Donuts. Let's be honest, the only thing better than Thin Mints, are Thin Mints dunked in Thin Mint Coffee.
Unfortunately, there's no exact date set for when you can expect the coffees to appear at your local DD, but the mystery flavor will be chosen and unveiled "in the coming months." However, considering that February's cookie coffee crossover only lasted until May, I wouldn't sleep on trying these sips when they finally make an appearance. Enjoy!