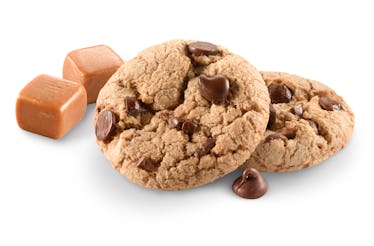 There's A New Girl Scout Cookie Flavor Coming, So Clear Off Your Snack Shelf
GIRL SCOUTS
Samoas, take a seat, because a new cookie is coming to town to help you live your best, caramel-drizzled life. I was so excited to hear that the Girls Scouts are adding to their arsenal of tried-and-true confections with a new offering that will let a lot more of their customers get in on the Girl Scouts cookie love. That's right, the Girl Scouts' Caramel Chocolate Chip Cookie is gluten-free, and the mouthwatering bites will be here to help you ring in 2019.
Beginning Jan. 2, 2019, the Girl Scouts will be launching their third gluten-free option ever, and the treat promises to be the salty-sweet mixture of your dreams, per a press release. If you've been looking for a version of your grandma's chocolate chip cookie (but better), the Caramel Chocolate Chip Cookie has got you covered, and TBH, you might even consider kick your Samoas and Thin Mints to the curb. According to press materials, the chewy biscuit features a buttery batter inlaid with semi-sweet chocolate chips and a rich caramel flavor. The icing on the cake? Sprinkles of sea salt that are sure to take your salted caramel obsession to the next level. Basically, it sounds like heaven in a cookie, and I'm so on board.
The Caramel Chocolate Chip Cookie is joining the Girl Scouts' other gluten-free offerings, Toffee-tastic Cookie and Trios. The Toffee-tastic Cookie was released back in 2015, and at first glance, the "rich, buttery cookie with sweet, crunchy, golden toffee bits" sounds like a pretty similar recipe, but minus the gooey chocolate and sea salt. My point is, all of these choices sound like a great choice, whether you're concerned about gluten or not.
Unfortunately, like the Toffee-tastic Cookie, the Caramel Chocolate Chip Cookies are also launching with limited availability in "select areas," so I'd check your local Girl Scout councils to see if your neighborhood made the cut. In addition, online shoppers are out of luck, because the Girls Scouts' newest cookies can only be purchased from a registered Girl Scout. That being said, the organization promises that paired with the current reach of the Toffee-tastic Cookie, every customer will have access to at least one delicious gluten-free offering. These salty-sweet bites are only available in select markets "as long as supplies last," so if you happen to see them on sale, I'd recommend buying a handful and hoarding them in your freezer for the rest of the year.
In addition, to cover the higher costs of production, these melty, chewy bites of goodness may be sold for higher than the average $3.50 to $5 per box, according to Moneyish. While you could be paying more for your gluten-free box of deliciousness, remember that the proceeds from your purchase are going back to support girls' development of entrepreneurial and essential life skills. What's an extra couple dollars when it comes to supporting young female "business trailblazers" in-the-making?
"The Girl Scout Cookie Program plays a powerful role in developing financially savvy girl leaders," Girl Scout USA CEO Sylvia Acevedo said in a press release shared with Elite Daily. "Girl entrepreneurs learn valuable interpersonal and business skills via the cookie program that help them become successful in their future careers, no matter what path they choose."
Girl Scouts' Caramel Chocolate Chip Cookie shows that the organization is continuing to make it easier (and tastier) for individuals with dietary restrictions to get in on the cookie bonanza, and I'm so here for it. Back in 2017, the Girl Scouts released another vegan cookie (a chocolate-coated S'Mores confection) to honor 100 years of peddling their iconic cookies, and with a new gluten-free flavor in the works, it sounds like there will something for everybody to satisfy their cookie cravings.
When 2019 comes around, I'm predicting plenty of happy munching to ring in the new year.