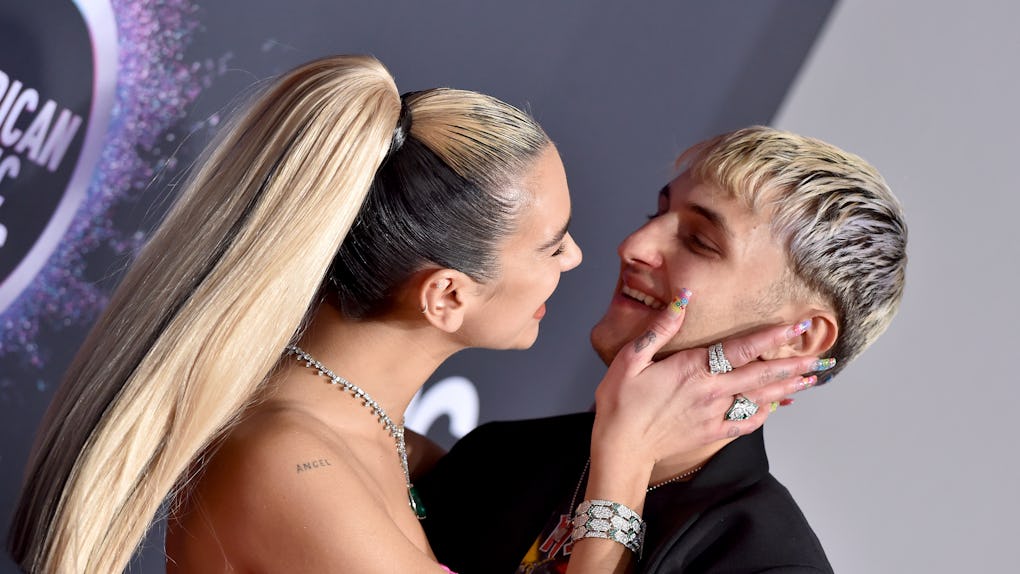 Axelle/Bauer-Griffin/FilmMagic/Getty Images
Dua Lipa & Anwar Hadid's Body Language At The American Music Awards Was Too Cute
In case you need something cute to warm your chilly heart, Dua Lipa and Anwar Hadid's body language at the American Music Awards is here to brighten your day. Seriously, these two looked so good together, it was almost too much to bear. (Almost.) If you missed the memo, the pop star and the model/DJ have been spotted sashaying around Los Angeles and New York looking very much in love since this summer. Sources reportedly told TMZ that Hadid and Lipa were reportedly introduced by Gigi Hadid, and first bonded over their shared passion for music in early June 2019. After Lipa broke up with then-boyfriend Isaac Carew later that month, Hadid reportedly asked her on a date.
At the 2019 AMAs, Lipa performed her new single, "Don't Start Now," but before she hit the stage, she got in plenty of red carpet PDA with her mans. They looked so relaxed and in-sync — truly a sight for sore eyes. To better understand what this still-relatively-new couple's body language had to say, I spoke with body language experts Traci Brown (author of Persuasion Point: Body Language and Speech for Influence) and Patti Wood (author of SNAP: Making the Most of First Impressions, Body Language, and Charisma). Here's what they gathered.
Lipa Isn't Afraid To Be In The Driver's Seat.
"She's the one in control here," Brown tells Elite Daily of Lipa's posture. "See how she's guiding him with her hand on his shoulder and neck? It's almost like she's got her claws in him, and nobody's going to take her man." Noted! You get yours, girl.
Hadid Seems To Be Playing It Cool.
Although it's hard to read Hadid's facial expression from this angle, Brown points out he's not fully embracing Lipa in this photo even though she's inviting it. "She's pulling him in close here, but he's still not taking the bait," observes Brown. "His arm isn't around her." According to Brown, this may signal that Lipa's feelings might be stronger than Hadid's at this point in their relationship, although it is important to note that the photo might've just been snapped at an awkward moment.
Lipa Is Showing Off Her Vulnerable Side.
"This is a 'swoon kiss,'" Wood tells Elite Daily. "See how her upper torso is 'swooning' back into his arm and her head is arched back? These are all moves of vulnerability on her part. It is a posed kiss, but a romantic posed kiss." If I squint, I'm getting Britney and Justin 2002 vibes with some added edge. (Living! For! It!)
Their Dreamy Eyes Are So Sweet.
In this photo, their body positioning and eye contact indicate a deep connection. "I love this layered V-pose with their bodies touching from the chest down, to show their closeness. That is a sweet, loving, long look they're giving each other," says Wood. Brown also points out that it's tough to gaze into someone's eyes at "such close range unless you're really into each other." Considering they're at a hectic event, watching them share such an intimate moment is particularly heart-warming.
The way these two oozed chemistry and charisma at the AMAs make it clear they're feeling the love. Here's hoping they continue to shine together for many years to come.