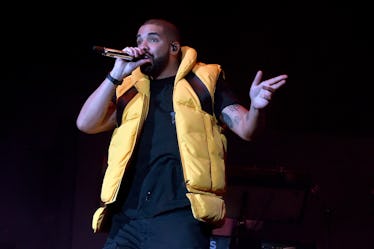 28 Instagram Captions From Drake's 'Scorpion' Album, Because The Hype Is Real
Kevin Winter/Getty Images Entertainment/Getty Images
Someone contact the stars, because it's officially Scorpion season! That's right — Drake finally released his album Scorpion on June 29, and fans are going wild on yet another Friday full of new music. The past month or so has honestly been jam-packed with drops from Kanye, Kid Cudi, and Nas. But, when it came to Drake, many of us just wanted to know if he'd put in his two cents on the drama with some solid diss tracks. Let's be honest: You'll be needing Instagram captions from Drake's Scorpion album now that it's hitting the mainstream. Have you listened, yet? If not, put in your headphones ASAP.
I have to admit, I really appreciate a lot of Drake's tracks that have been on the radio. For me, "Hotline Bling" never got old, and his collaboration with Rihanna back in the day on "What's My Name" is my absolute favorite. He just always seems to be cranking out loads of music, which is good for his fans, but hard if you're trying to keep up with everything in the entertainment world.
The record alone came with some clapbacks and basically a confirmation that the rap artist has a son. Even the description of the album is all about addressing those rumors that "DRAKE DOESN'T EVEN WRITE HIS OWN SONGS," and "DRAKE IS FINISHED." Think again, because Scorpion has two sides, showing that this former Degrassi star is far from over. You'll want to stop everything and decode the lyrics just so you can get the full story, or at least snag some Instagram captions.
1. "Wild thing you're doin' at night. Trips to wherever feels right." — "Don't Matter To Me"
2. "I always need a glass of wine by sundown." — "Final Fantasy"
3. "With your phone out, gotta hit them angles." — "Nice For What"
4. "You've got me feeling emotions. Higher than the heavens above." — "Emotionless"
5. "I'm the chosen one, flowers never pick themselves." — "Sandra's Rose"
6. "I be out here on my own, I'm just tryna set the tone." — "Can't Take a Joke"
7. "Only obligation is to tell it straight." — "Elevate"
8. "Shifted your focus, lens lookin' jaded." — "Jaded"
9. "My Mount Rushmore is me with four different expressions." — "Survival"
10. "Had a moment but it came and went." — "Nonstop"
11. "It's too late for all that lovey-dovey sh*t." — "Mob Ties"
12. "Summer just started and we're already done." — "Summer Games"
13. "House on both coasts, but I live on the charts. I have tea with the stars and I swim with the sharks." — "Survival"
14. "I know the truth is you won't love me until I'm gone. And even then, the thing that comes after is moving on." — "Emotionless"
15. "I only love my bed and my mama, I'm sorry." — "God's Plan"
16. "They keep tryna get me for my soul. Thankful for the women that I know." — "I'm Upset"
17. "Back and forth to Italy, my comments section killin' me." — "Can't Take a Jake"
18. "Love certain ones but never get attached to 'em." — "Is There More"
19. "Should I do New York, I can't decide. Fashion Week is more your thing than mine." — "Finesse"
20. "Look, the new me is really still the real me." — "In My Feelings"
21. "I know you wanna be somebody, even if you gotta leave somebody." — "Jaded"
22. "It's too bad reality checks don't cover the balances due." — "Is There More"
23. "Talk used to be cheap, nowadays it's free." — "Peak"
24. "This a Rollie not a stopwatch, sh*t don't ever stop!" — "Nonstop"
25. "Missing out on my days, scrolling through life and fishing for praise." — "Emotionless"
26. "I'm in control of my destiny, never in doubt. If I can't make it with you, I'll make it without." — "Is There More"
27. "It takes some finesse. I seen you finesse." — "Finesse"
28. "Vacay to a place where you could. Take pictures, post on Insta." — "That's How You Feel"