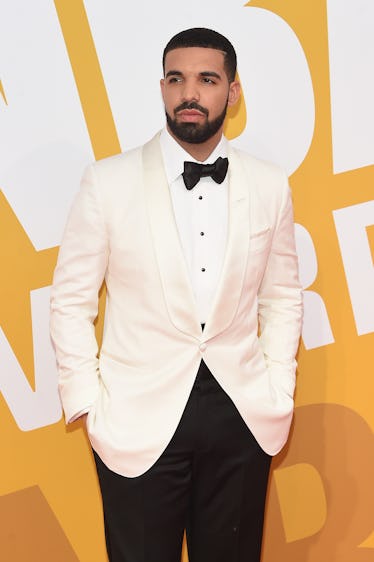 Drake May Have Confirmed He Has A Child On His New Album & I'm So Shook RN
Jamie McCarthy/Getty Images Entertainment/Getty Images
The kid IS his son, you guys! Rumors have been circulating for a while that Drake had a child with artist Sophie Brussaux, and now we may finally know the truth. Drake basically confirmed he has a son on his new double album Scorpion, and OMG, I am so shook! I mean, there wasn't even any kind of warning, he just sort of snuck the story into the lyrics of his track "Emotionless," which samples Mariah Carey's 1991 hit song "Emotions." Elite Daily reached out to Drake's team for clarification about his lyrics, but did not hear back by the time of publication.
"I wasn't hiding my kid from the world. I was hiding the world from my kid," he raps. "From empty souls who just wake up and look to debate, until you staring at your seed, you can never relate."
Mic drop, right? Of course, the big reveal comes after Pusha T released a diss track addressed to Drake last month with the lyric, "Sophie knows better, ask your baby mother. Cleaned her up for IG, but the stench is on her. A baby's involved, it's deeper than rap. We talkin' character, let me keep with the facts. You are hiding a child, let that boy come home."
Woah!
This is Sophie, BTW, in case you didn't know:
Meanwhile, "Emotionless" — the fourth of 25 tracks on the album — isn't the only place Drake addresses the fact that he has a son. The rapper gives his fans more of the backstory of first finding out he was a dad and dealing with his baby's mother in the song "March 14," where he also tosses in a reference to Michael Jackson's hit song "Billie Jean."
"Yesterday morning was crazy," he raps. "I had to come to terms with the fact that it's not a maybe. That shit is in stone, sealed and signed. She's not my lover like Billie Jean, but the kid is mine. Sandi used to tell me all it takes is one time. Sh*t, we only met two times. Two times. And both times were nothing like the new times. Now it's rough times, I'm out here on front lines just tryna make sure that I see him sometimes. It's breaking my spirit, a single father, I hate when I hear it."
It's kind of heartbreaking, right? Drake also reveals on the track that his son's birthday is October 11 — a number he got tattooed — and that while he went out and bought his little boy a crib, he hasn't really been able to use it yet because he's only seen him once!
"I got a empty crib in my empty crib," he raps. "I only met you one time, introduced you to Saint Nick. He must've brought you like 20 gifts. Your mother saying you growing so fast that they don't really fit but, man, you know, I still had to get it for my boy tho. Sorry, I'm venting trying to cover ground. They said in two weeks you're supposed to come to town. Hopefully, by the time you hear this, your mother and I will have come around instead of always cutting each other down. God willing, I got a good feeling."
OK, so maybe it took a while for Drake to come around, but it definitely looks like he is ready to be a father now. And his fans, of course, are freaking out about the confirmation of the big news, even though some of them kinda suspected it for a while.
Yup, he really did. I guess that means he loves something else besides his bed and his mama now #ImSorry.
You can stream Drake's album on Spotify, and read the full lyrics to "March 14" here.