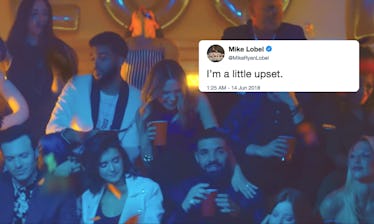 Some 'Degrassi' Stars Are Clapping Back After Not Being Included In Drake's New Video
YouTube / Twitter
My life was literally complete when I saw Drake's newest music video for his track, "I'm Upset," because it was literally a Degrassi reunion. By now, I can only hope you knew of Drake's character, Jimmy, on the hit show, yes? Well, he has finally given his former co-stars the shoutout they truly deserve. If you thought that maybe just one or two castmates were involved in this production, think again. Boatloads of former actors and actresses made their music video debuts. Even Rick, the guy who shot Jimmy on the show, made an appearance. But look, folks, not everyone from the show was included, and the tweets from Degrassi cast members about Drake's "I'm Upset" video and their exclusion from it are actually kind of hilarious. Well, not for them, but, ya know.
Released on Wednesday, June 13, Drake's "I'm Upset" music video featured the Degrassi cast. Notably absent, however, were actors Ryan Cooley (who played JT Yorke, let's pour one out), Daniel Clark (who played Sean Cameron), Mike Lobel (who played rebellious Jay Hogart), and Deanna Klymkiw (bad girl Alex Nunez). So where the heck were they?
Well, a few of them were upset (no pun intended) about not getting the memo.
Clark spoke to Page Six about not being a part of the music video, and was as surprised as the rest of the world when it dropped. "No one ever reached out to me about this," Clark said. "I have no idea even when it was filmed. I woke up this morning and watched the music video and was like, 'What the hell is going on?'"
That Drake done did you dirty, sir.
He continued, saying,
It sucks because it would have been great to see everybody. The best part is the fans are getting what they want and that's most important and everyone looks so happy, so that's kind of the silver lining there. It looked like everyone was having a great time, but for me, it was kind of sad too, because we were all really like family.
Sorry, Daniel Clark. Seems like he feels like he wasn't allowed to sit at the cool kids' table in the cafeteria, which I can totally understand. Although, it seems like he's slowly getting over the snub. He commented on Drake's Instagram post, writing, "really sad I missed this. Brought back some amazing memories -- miss and love you brother." Rough stuff, man.
But what about the others?
One Degrassi fan took to Instagram to express how "upset" they were that Drake didn't bring JT (actor Ryan Cooley) back for the video, but Drake responded, explaining that "[Ryan] thought it was a scam," and honestly, wouldn't you think someone was playing a joke on you, too, if Drake popped up on your caller ID?
That would 100% be my life. Drake calls me on my cell phone, knowing when that hotline bling, and I... press ignore.
That leaves us with Mike Lobel and Deanna Klymkiw. While it doesn't look like Klymkiw has said anything about the new music video, Lobel certainly did — and this is where things get sort of funny.
Clearly using a play on words, Lobel took to Twitter and wrote, "I'm a little upset."
LOL, GET IT?
And many Twitter users totally agreed with Lobel, because they felt like his character was a fan favorite on Degrassi:
Hey, Miss Kwan was a Degrassi member, too! Sure, she was just a teacher, but let's not knock Miss Kwan down, because she's deserving of her spot in this film, OK?
If you haven't watched the Degrassi reunion in Drake's "I'm Upset" video, then what are you waiting for? Check it out below and prepare to feel the nostalgia that will undoubtedly course through your veins:
A big thank you to Drake for making this happen, and our apologies to any Degrassi members who weren't involved. But hey, there's always the 20-year reunion!