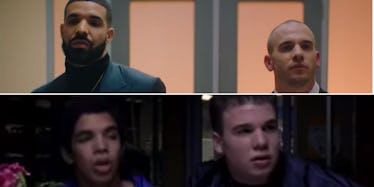 Drake's New Music Video Is One Big 'Degrassi' Reunion & I'm Crying Real Tears Of Joy
YouTube
Drake might've just made my favorite music video of all time. I have been waiting his entire rap career for Drake to give Degrassi the love and attention it deserves, and guys, it has finally happened. Drake's "I'm Upset" music video Degrassi reunion is here and it's what dreams are made of. It's not just a couple of people from the cast in this music video, guys. It's literally all of Drake's castmates from when he played Jimmy on Degrassi, and yes, even the guy who played Rick — the character who notoriously shot Jimmy on the show — is included.
The video starts out with Drake sleeping in a bed with a woman, and that bed is on the Toronto Raptors basketball court for some reason. Then he gets up and starts to get ready for his high school reunion. You think it's just going to be random people cast for the video at first, but then, when Drake is at a tailor getting his suit ready for the reunion, Shane Kippel (aka, Jimmy's BFF Spinner) comes out of a dressing room looking like a snack in a black suit. There was no hint that this video was going to be a Degrassi reunion before this, so when Kippel appeared I literally screamed. Especially since he's bald now.
Check out Drake's "I'm Upset" music video and try not to lose your sh*t over the nostalgia.
Spinner!!
Shane Kippel is the first cast member to show up, then the video only gets better from there. Drake and Kippel drive through Toronto to Degrassi High, and as soon as they pull up, that's when the flood of Degrassi cast members start to come in.
Lauren Collins, aka Paige Michalchuk, shows up first.
Then Adamo Ruggiero (Marco Del Rossi) and Stacey Farber (Ellie Nash) get out of the car with her. (I'm sobbing at this point.)
Jake Epstein (school hottie Craig Manning) makes the next appearance and I am living.
Please turn your attention toward this majestic shot of Drake walking back into Degrassi Community School.
Welcome back indeed.
Miriam McDonald and Cassie Steele walk in together, obviously, since they played besties Emma Nelson and Manny Santos on the show. And Cassie, in true Manny fashion, is adjusting her boobs. Classic.
One of the best parts of the entire video is Mr. Simpson (played by Stefan Brogren) gets super drunk (well, they all do) and buys weed from his former "students." It's truly amazing.
At one point, a group of them dance in the hallways together and it's incredible. Nina Dobrev (who got her big break as Mia on the show) is there!!
The rest of the video is all of the former castmates dancing and partying together, but one of the funniest parts is when Ephraim Ellis (who played Rick, the guy who shot Jimmy), puts on the Rick wig and glasses again and gets chased down the hallway by Drake's friends.
This one's for Jimmy!!
Watching the Degrassi cast party together is everything I've ever needed.
"I'm Upset" is Drake's apparent response to Pusha T's "The Story of Adidon." In the diss track, Pusha T accuses Drake of having a "secret son" named Adonis. Drake hasn't responded to this specific claim. Elite Daily reached out to Drake's team for comment at the time, but did not hear back by the time of publication.
In "I'm Upset," Drake raps,
I'm upset / Fifty thousand on my head, it's disrespect / So offended that I had to double check / I'ma always take the money over sex / That's why they need me out the way / What you expect? / Got a lot of blood and it's cold / They keep tryna get me for my soul / Thankful for the women that I know / Can't go fifty-fifty with no ho
None of the lyrics flat-out address the Pusha T beef, but it's safe to assume that the lyrics "I'm upset" are about that. The video, on the other hand, shows that he's not really upset at all because whatever it takes, he knows he can make it through. (You're welcome.)
The video wraps up with the most nostalgia-inducing replay of the classic Degrassi: The Next Generation opening credits rolling side-by-side with shots from the video of them all grown up. I CAN'T!