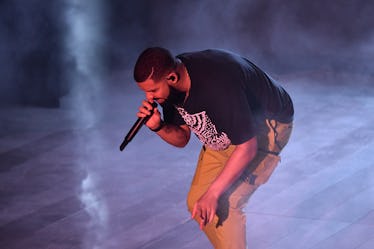 Drake's New Album 'Scorpion' Is Finally Here, So Here Are All The Ways To Listen To It
Frazer Harrison/Getty Images Entertainment/Getty Images
The time has come, people! Drake's new album Scorpion has finally been released and all those burning questions you had about potential collaborations and diss tracks have hopefully been answered. While you may be still reeling from all the hype surrounding this album, it's time to get down to business and listen to the whole thing all the way through. So, let's talk about how to stream Drake's new album Scorpion.
Obviously, you'll want to be able to hear the whole thing, all the way through with zero interruptions. Plus, you'll definitely want to be able to listen to the hit singles off the album like "God's Plan," "Nice for What," and "I'm Upset." And there are only a handful of streaming services that'll let you do just that.
Let's start with the top contender:
Apple Music
Now that Scorpion has officially been released, you can stream the album on iTunes and Apple Music. Obviously, you'll need an Apple Music account to listen to the album on this platform, so be sure you have that all set up beforehand.
Don't have an Apple Music account? No worries. You can actually sign up for a free trial to get access to the Scorpion album and the rest of the Apple Music catalog.
Here's the entire tracklist for Drake's new album:
Spotify
If you're not an Apple fan, you have some options. Like Spotify. Drake's album is available on the platform and you can listen free with limited ads. Be sure to check out Drake's other music on Spotify while you're at it.
Now, if you're not big on ads interrupting your listening session, then you'll have to sign up for a Premium account. It's not too expensive, so it might be worth it if you're a huge Drake fan!
Tidal
Yep, Drake's new album is also available on Tidal. Like the other streaming services listed here, you'll need to have an account in order to listen to Scorpion. So, make sure you sign up for Tidal's 30-day free trial.
Drake's Scorpion, which was released on Friday, June 29, is his fifth studio album. His last album, Views, was released back in April 2016 and sold over a million copies.
Promotion surrounding Scorpion has been interesting to say the least. Drake has been trickling out details about the album little by little, even putting up billboards in different cities.
And top of all that, fans have been speculating which topics he'll be addressing on this album. His long-standing feud with Pusha T comes to mind. In case you're not aware, Pusha T accused Drake of having a child in his diss track called "The Story Of Adidon." Elite Daily reached out to Drake's team for comment on the track and the possibility of Drake having a child, but did not hear back by the time of publication. Well, on Drake's track "Emotionless," he raps, "I wasn't hiding my kid from the world/I was hiding the world from my kid." In the song "March 14," he raps, "She's not my lover like Billie Jean but the kid is mine/Sandi used to tell me all it takes is one time, and all it took was one time/Sh*t, we only met two times, two times." Elite Daily reached out to Drake's team for comment on the lyrics but did not hear back by the time of publication.
Now that the album is here, Drake can no longer keep these things under wraps. So, everything about it seems much less mysterious and out in the open now. All his fans have to do is sit back and enjoy the music. Happy listening!