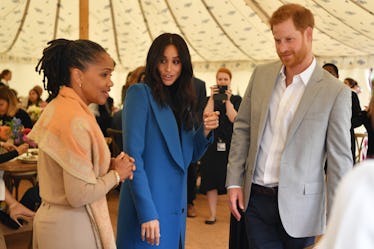 The Queen's Reported Christmas Invite To Meghan Markle's Mom Could Be A First For The Royals
WPA Pool/Getty Images Entertainment/Getty Images
When Meghan Markle rings in her first Christmas at the royal family's Sandringham House at Norfolk this year, she could have a very special family member by her side: her mother. According to The DailyMail, Doria Ragland will reportedly join Meghan Markle for Christmas, which would break with the royal precedent established by fellow Duchess Kate Middleton's in-laws. Per reports, the Queen has decided to break with tradition to invite the matriarch to join their gathering as a "mark of respect" for the newest member of the royal family, and if true, it's pretty heartwarming. Elite Daily reached out to Buckingham Palace to for confirmation of the report, but did not hear back by the time of publication.
When the former Suits actress first became a part of the British monarchy with a fairytale ceremony on May 19, Markle's mom Doria was the only member of her family in attendance to watch her walk down the aisle and exchange her "I dos" with Prince Harry. Then, all summer long, the newly-minted Duchess of Sussex was embroiled in a very public feud with her estranged father, Thomas Markle, and her step-sister Samantha who seemed to take interview after interview to publicly disparage the actress with name-calling and rude comments. TBH, I think we were all over that drama, and I was relieved when it seemed like Meghan's relatives were finally ready to stop airing their dirty laundry with the announcement that she was expecting her first child with Prince Harry. It's never great fighting with family, but I can imagine how much more of an emotional toll it would take if the drama was playing out on a public stage for literally everyone to see.
All in all, it's been a taxing year for Markle as far as close family is concerned, save for her mom Doria, who made a dignified solo appearance at her daughter's wedding and has been been supporting her during her endeavors ever since. She even flew in from Los Angeles to celebrate the release of Markle's charity cookbook, titled Together: Our Community Cookbook, and fans have been speculating we'll be seeing even more of the grandma-to-be as the expectant duchess prepares to welcome her first baby.
All of this would make a Christmas invite to Sandringham House from the Queen — an honor that's reportedly not been bestowed upon other in-laws like Kate Middleton's parents — even more meaningful. While the Duchess of Cambridge's family has been invited to join the royals for Christmas festivities at her and Prince William's home at neighboring Anmer Hall, the Queen's Sandringham House has previously been reserved only for immediate members of the royal family. For example, last year, a then-engaged Markle and Prince Harry stayed at Anmer Hall.
According to The Daily Mail, a source told the Sunday Express that it was a "very thoughtful gesture" which shows respect for Markle as well as an acknowledgement that the American mom-to-be doesn't have any other blood relatives in Britain. Plus, now that the former actress is expecting a baby, I'm sure she'll be even happier to have her mom staying under the same roof as the holidays approach.