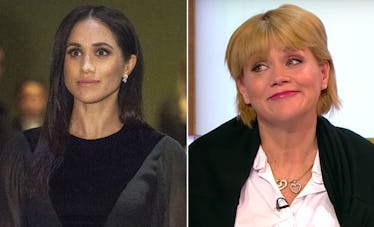 Samantha Markle's Message To Meghan On National TV Will Make You So Uncomfortable
WPA Pool/Getty Images; YouTube
The era of Markle-family drama finally seems to be coming to an end. All summer long fans of the royal family saw Thomas Markle Sr., Samantha Markle, and Thomas Markle Jr. insult the new Duchess of Sussex, Meghan Markle, in the press in what seemed like constant interviews. But something may have changed behind the scenes, prompting Samantha to apologize on live TV (gasp!). The video of Samantha Markle apologizing to Meghan on Jeremy Vine's talk show, Jeremy Vine on 5, happened on Oct. 1. She claims the drama between them is all water under the bridge (for her, at least), and that she's hoping she and her sister can reconcile, but she doesn't sound too hopeful that that will happen.
Samantha was in London when she appeared on the British talk show. She revealed to Vine that she stopped by Buckingham Palace but had no way of contacting Meghan to let her know she was there. This sounds... far too casual. "Hey Meghan, I'm out front Buckingham Palace. Can you buzz me in?" What did she think she was going to do when she got to Buckingham Palace? Knock on the door?? Also, girl... Meghan doesn't live there... Anyways, Samantha told Vine that she traveled to London (as her first trip out of the U.S.) to try and "send a message" to Meghan about the drama with their father, Thomas. "I wanted to make the trip and sort of speak the wishes and thoughts and sentiments of my father, and hopefully get a message to my sister," Samantha told Vine. She added, "Things aren't really what they've seemed, there's so much misperception," seemingly forgetting that she recently referred to her sister as a "DuchA**."
Vine eventually gave Samantha the opportunity to speak her message to Meghan. "I would just say that there is so much water under the bridge," she started, "and so much has spun out of control that was never intended to." Samantha then basically implied that all of this drama was Meghan's fault for not being sensitive to her father's side of the family's wishes and inviting them all to the royal wedding. From the looks of all the things they said about her this summer, I can't imagine their relationship was perfect beforehand, so their lack of an invitation to the wedding doesn't seem like a surprise.
"And you know," she went on, "I think everybody was hurt not being included or invited to the wedding, but I felt as though it could have all been nipped in the bud had everyone been included, and we all just agreed to move forward with positive resolve." See, Meghan? All of this could have been avoided if you had just given them what they wanted! Ugh, this sentiment is just the worst and has been echoed in everything the Markles have said this summer. It's not on Meghan Markle to go to special lengths for her family just to make sure they don't act terribly toward her. It's on them as grown AF human beings to not act out in the first place.
Samantha continued, "The hurt feelings wouldn't have snowballed, but believe it or not, it doesn't mean that we love you any less, I just think that families can be this way when there's confusion and people are hurt. So moving forward, I apologize and wish things could be different." Samantha and Thomas Markle: cause drama and say horrible things about Meghan to the press with the intentions of hurting her. Also Samantha and Thomas Markle: "I just wish things could be different." Does anyone else have whiplash from this sudden flip? The Duchess of Sussex hasn't publicly responded to her sister's apology.
People on Twitter are not buying that Samantha's apology is genuine.
I still can't get over the fact that she went to Buckingham Palace hoping to be noticed and let in. They don't have video intercom on the front gate there, sis. But good try!