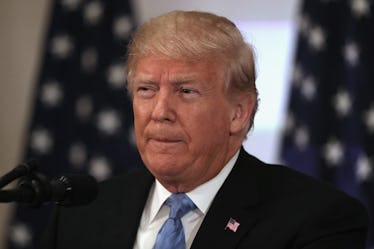 Donald Trump Went All Out For Brett Kavanaugh's Testimony On Twitter
John Moore/Getty Images News/Getty Images
The testimonies of Supreme Court nominee Brett Kavanaugh and California professor Christine Blasey Ford prompted a flood of opinions on social media. Both Ford and Kavanaugh went before Capitol Hill on Thursday, Sept. 27 to testify about sexual assault allegations Ford recently leveled against Kavanaugh, which she claims happened more than 35 years ago when they were teenagers. Kavanaugh has vehemently denied the allegations. Elite Daily reached out to his representatives for further comment on the claims but did not receive a reply. Following the testimonies, even the president took to social media to share his thoughts, and Donald Trump's tweet about Brett Kavanaugh's testimony is probably exactly what you expected to see from him.
While some people were on Twitter ridiculing Kavanaugh's jarring demeanor during his testimony, Trump effusively praised him after the Supreme Court hopeful angrily, tearfully and "unequivocally" denied the allegations, with the president urging the Senate to vote to confirm him. Moments after the hearing concluded, Trump tweeted that Kavanaugh's testimony was "powerful, honest, and riveting" and reflected exactly why he nominated him for a seat on the Supreme Court. The tweet read:
Judge Kavanaugh showed America exactly why I nominated him. His testimony was powerful, honest, and riveting. Democrats' search and destroy strategy is disgraceful and this process has been a total sham and effort to delay, obstruct, and resist. The Senate must vote!
Meanwhile, Trump has yet to address the testimony of Kavanaugh's accuser, Christine Blasey Ford. In an emotional account, she repeated her allegations that the judge pinned her down and tried to remove her clothes while he was drunk at a party while they were in high school in the 1980s, claiming that she feared for her life. Although Ford claimed that she is "100 percent" certain Kavanaugh was the perpetrator, the judge has maintained his innocence and slammed senators for a confirmation process he called a "national disgrace."
During a solo press conference on Wednesday, Sept. 26, the president defended Kavanaugh once again, describing him as "an absolute gem" who has been treated "very unfairly." He also described Democrats' handling of the allegations a "big con job." He said, according to People:
This is one of the highest quality people that I've ever met. These are all false to me, all false accusations in certain cases … I can only say that what they've done to this man is incredible.
When Trump did address Ford's claims on Sept. 21, he appeared to question and downplay the validity of her allegations, which set Twitter on fire. Elite Daily reached out to the White House for comment at the time but did not hear back. Here's what he wrote:
I have no doubt that, if the attack on Dr. Ford was as bad as she says, charges would have been immediately filed with local Law Enforcement Authorities by either her or her loving parents. I ask that she bring those filings forward so that we can learn date, time, and place!
The tweet fueled the viral hashtag #WhyIDidntReport, in which many sexual assault and harassment survivors shared why they struggled to come forward with their stories.
Seems like he might catch similar backlash for this latest tweet. But hey, is that really surprising at this point?