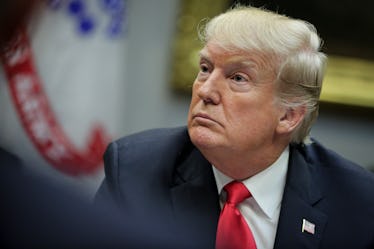 "Why I Didn't Report" Is All Over Twitter After Trump's Attack On Kavanaugh's Accuser
Pool/Getty Images News/Getty Images
President Donald Trump really did it this time. In a series of tweets shared to his Twitter account on Friday, Sept. 21, he appeared to question the credibility of Christine Blasey Ford, the California professor who accused Supreme Court nominee Brett Kavanaugh of sexual assault from the 1980s, which Kavanaugh denies. The White House did not respond to Elite Daily's request for comment or clarification on the tweet. But the tweet prompted immediate and widespread outrage on Twitter, and now, people are sharing their own experiences with the viral hashtag #WhyIDidntReport. With any luck, these tweets about "Why I Didn't Report" should help everyone, the president included, learn a bit more about the seriousness of sexual misconduct and why victims don't always come forward with their stories.
For the past week, Trump has remained fairly quiet on Ford's claims that Kavanaugh allegedly assaulted her at a party more than 35 years ago, which he has categorically denied. "This is a completely false allegation. I have never done anything like what the accuser describes—to her or anyone," he said in a statement to CNBC. Representatives for Kavanaugh did not respond to Elite Daily's request for further comment. But on Friday morning, Trump finally addressed the topic, declaring on Twitter that if Ford's alleged experience with Kavanaugh was so bad, she would have reported it to law enforcement. He wrote:
I have no doubt that, if the attack on Dr. Ford was as bad as she says, charges would have been immediately filed with local Law Enforcement Authorities by either her or her loving parents. I ask that she bring those filings forward so that we can learn date, time, and place!
Alyssa Milano, the actress who helped popularize the #MeToo movement, was one of many people who immediately fired back at Trump, telling him to "listen the f*ck up" while simultaneously calling on her supporters to share their stories on the platform.
"... I didn't want to get in trouble for drinking."
"... His parents were richer & better connected than my parents."
And then, Pennsylvania Gov. Tom Wolf swept in with a perfect summary:
Many of the stories shared on Twitter closely align with Ford's allegations. In a Sept. 16 interview with The Washington Post, she told the outlet that she feared she would get in trouble for being at a party where teenagers were drinking. "I'm not ever telling anyone this. This is nothing, it didn't happen, and he didn't rape me," was how she explained her thoughts at the time to the paper.
Since going public with her claims, Ford has reportedly received multiple death threats, which forced her and her two children to move out of their home. She's also been entangled in negotiations with members of the Senate Judiciary Committee, who have called on her to testify about her allegations against Kavanaugh. Ford initially said she wouldn't testify until the FBI investigated her claims, however, she has since indicated that she would be willing to testify, as long as she and senators agree on "terms that are fair and which ensure her safety."
Moving forward, perhaps we should stop asking victims why they waited so long to do so and instead focus on how to better support them. Just a thought.