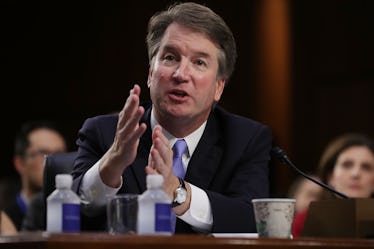 Brett Kavanaugh's Accuser Has A Requirement Before She Testifies To The Senate
Chip Somodevilla/Getty Images News/Getty Images
Over the past few days, there have been mounting calls to delay a vote on Brett Kavanaugh's Supreme Court nomination following a bombshell allegation from California professor Christine Blasey Ford. Ford claims that Kavanaugh sexually assaulted her while they were in high school, prompting widespread backlash against the Supreme Court nominee. Kavanaugh has denied the allegation. Representatives for the judge did not immediately return Elite Daily's request for additional comment. In the wake of the allegation, many people have been questioning: will Christine Blasey Ford testify about Brett Kavanaugh? Well, she's asking for an investigation, first.
Speaking through her lawyers on Sept. 18, Ford demanded a "full investigation" by the FBI before she testifies about her allegations against Kavanaugh, as she wants to ensure the Senate Judiciary Committee is "fully informed before conducting any hearing or making any decisions," ABC News reported. Ford reportedly feels that an investigation should be "the first step in addressing her allegations."
Ford's attorneys echoed her sentiments, complaining in a letter tweeted out by Atlantic reporter Natasha Bertrand that the committee scheduled her to "testify at the same table as Judge Kavanaugh in front of two dozen U.S. Senators on national television to relive this traumatic and harrowing incident."
Iowa Sen. Chuck Grassley, who chairs the judiciary committee, said Tuesday night that there is no reason to delay Kavanaugh's confirmation hearings any further and scheduled a hearing on Ford's allegations for Monday, Sept. 24, The New York Times reported. Both Ford and Kavanaugh were invited to testify.
"Dr. Ford's testimony would reflect her personal knowledge and memory of events," he said in a statement on Sept. 18. "Nothing the FBI or any other investigator does would have any bearing on what Dr. Ford tells the committee, so there is no reason for any further delay."
Without the requested investigation, it seems unlikely that Ford will show up for the hearing, as suggested by one of her lawyers, Lisa J. Banks. "She's not prepared to talk with them at a hearing on Monday," Ms. Banks said, per The Times. "No legitimate investigation is going to happen between now and Monday."
The apparent standoff between Ford — a professor and research psychologist in Northern California at Palo Alto University — and the judiciary committee comes just days after her claims against Kavanaugh went public in a Sept. 14 report from The New Yorker. The allegation dates back to more than 35 years ago, when the two were in high school. Ford alleges that, during a party, Kavanaugh held her down and tried to remove her clothes in an alleged drunken stupor. She said she was able to escape, but claims the alleged assault traumatized her and that she sought psychological treatment as a result. Kavanaugh has categorically denied Ford's accusations, and said he was willing to testify before the Senate to "refute" the claims against him. "This is a completely false allegation. I have never done anything like what the accuser describes—to her or anyone," Kavanaugh said in a statement, per CNBC. Elite Daily reached out to representatives of Kavanaugh for further comment, but did not hear back.
Though there's still a cloud of uncertainty as to whether Ford will testify on the alleged encounter next week, CBS notes that Republicans might give Kavanaugh the opportunity to address the allegations against him. We'll see how this goes.