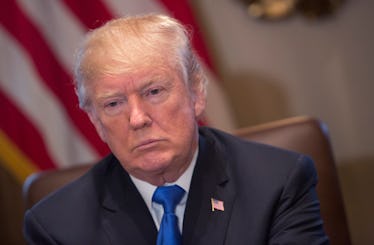 Donald Trump Is Calling Out Barack Obama For Campaign Finance Violations Now
Pool/Getty Images News/Getty Images
Surprise, surprise. President Donald Trump is calling out President Barack Obama again. This time, it's in reference to campaign finance violations. If you haven't heard, Trump's ex-lawyer Michael Cohen pleaded guilty to a variety of charges on Aug. 21, including campaign finance violations, and appeared to implicate the president in his plea. Elite Daily reached out to the White House for comment regarding the plea but did not hear back by the time of publication. Although he's seemingly just trying to clear the situation up, Donald Trump's tweet about Barack Obama's campaign finance violation is totally missing the point.
On Wednesday, Aug. 22, Trump wrote on Twitter that the two counts of campaign violations Cohen plead guilty to "are not a crime." He also insisted that he's a victim of a double standard, implying that he's being treated unfairly amid Cohen's guilty plea, even though Obama's campaign finance case was "easily settled." The tweet read:
Michael Cohen plead guilty to two counts of campaign finance violations that are not a crime. President Obama had a big campaign finance violation and it was easily settled!
Despite Trump's attempt to liken the two situations, they aren't that comparable. First things first, though: Cohen absolutely committed a crime by his own admission. On Aug. 21, he pleaded guilty in a federal court to campaign finance violations, which carry jail time and fines, according to The Washington Post. The charges stemmed from illegal contributions Cohen made, allegedly at Trump's direction, to bury stories about affairs two women — adult actress Stormy Daniels and former Playboy model Karen McDougal — had with the president "for the principal purpose of influencing the election," according to Cohen. The president has denied the allegations.
As for Trump's comments on Obama's campaign case, well, the situation wasn't exactly the same. According to Politico, back in 2013 Obama's presidential campaign, Obama For America, was fined $375,000 by the Federal Election Commission (FEC) for violating federal disclosure laws. The fine came after an FEC audit of Obama's 2008 campaign records discovered the committee failed to report the sources of 1,300 large contributions, accounting for nearly $1.9 million, as election law requires those sources to be disclosed with 20 days of an election. The campaign was also fined for not returning campaign donations within a required timeframe, as the FEC found that Obama For America had not returned nearly $1.3 million of extra donations within a 60-day window; as well as for incorrectly dating filings related to $85 million in donations, per U.S. News. While definitely a violation, it's not exactly the same thing as paying over a quarter of a million dollars to pay off alleged mistresses.
Trump is seemingly just trying to digest Cohen's assertion though, as it could have serious repercussions for him, too. Cohen's lawyer, Lanny Davis, issued a statement to Elite Daily following his client's plea, explaining:
Michael Cohen took this step today so that his family can move on to the next chapter. This is Michael fulfilling his promise made on July 2nd to put his family and country first and tell the truth about Donald Trump. Today he stood up and testified under oath that Donald Trump directed him to commit a crime by making payments to two women for the principal purpose of influencing an election. If those payments were a crime for Michael Cohen, then why wouldn't they be a crime for Donald Trump?
At the end of the day, Obama's campaign faced the consequences and paid the fine for the violations. So if worse comes to worst, that might be in Trump's best interest, too.