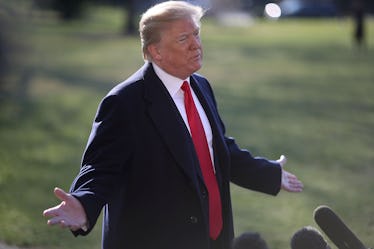 Donald Trump Suggested Fighting Wars In Space, Because 2018 Isn't Sci-Fi Enough
Mark Wilson/Getty Images News/Getty Images
As today wasn't enough of a hectic day for President Donald Trump, he's managed to get at least another attention-grabbing headline to cap off this frenzied Thursday. During a trip to a Marine base in Southern California, Trump suggested that the military add a "space force," for when the president claims we will eventually be fighting wars in space. Sure, Mr. President. This is definitely a totally normal statement to make.
This president is known for making false, flagrant, even shameless claims. But this latest far-fetched claim is probably his most ridiculous one to date. While on a visit to the Marine Corps Air Station Miramar in San Diego on March 13, Trump told a group of marines in a speech that he believes we will eventually be fighting wars with other counties in outer space, according to CNBC. Yes, you heard that right. The president apparently believes that we will one day very soon be living in a version of the Star Wars universe. The president said to an audience of service members,
Space is a war-fighting domain, just like the land, air, and sea. We may even have a Space Force, develop another one, Space Force... We have the Air Force, we'll have the Space Force.
Trump told the crowd that this idea for his "space force" began as a joke when discussing government spending in terms of the United States' space program — but then thought that this idea for a space army is actually a plausible one. "I said, 'maybe we need a new force, we'll call it the Space Force,' and I was not really serious. Then I said, 'what a great idea,' maybe we'll have to do that," Trump told the crowd. The White House did not immediately respond to Elite Daily's request for comment and clarification on whether the president's comments were a joke.
Because I mean this is a pretty outlandish thing to say — that under his administration an entire new branch of the U.S. Military will be developed so that we'll be able to fight wars in space. Listen, Don. We all like Star Wars. But just because Elon Musk launched his SpaceX Falcon 9 rocket a couple months ago doesn't mean that all of a sudden we have the means to create an entire army of fighting zero-gravity vessels.
Also, doesn't Trump have more important things to focus on? Like his most recent cabinet departure, for one? Earlier on March 13 Trump announced via Twitter that he would be letting go Secretary of State Rex Tillerson, replacing him with the current CIA Director Mike Pompeo. This shakeup in the White House does not come as a surprise seeing this has reportedly been a long time coming. Considering this news (and considering that the Department of State deals with foreign affairs, which directly affects our military), maybe Trump should have spent some time discussing his decision and his plans on how he and Pompeo might handle their impending meeting with North Korean dictator Kim Jong-un.
Although, if you really think about it it's not completely unheard of to fight wars in space. In fact, we kind of already have. During the Cold War between the United States and Russia (aka the former USSR), both countries engaged in what was called the "Space Race." To refresh your high school history class memory, the United States basically began competing with the Russians once the U.S. learned that they had launched the first space satellite, called "Sputnik." The race eventually ended when the U.S. effectively won by landing three astronauts on the moon for the first time in history.
But that is a very different type of "space war" — one that does not include actual combat. A literal "space war" is just too much of an out-there concept to even discuss. But then again, does anyone take a Trump claim like this "space force" one seriously? I don't think so.