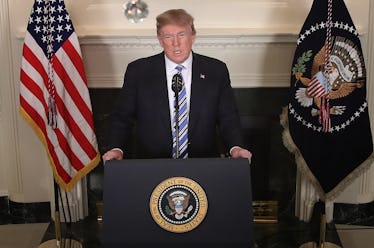 Donald Trump's Budget Would Cut Millions From This Important Gun Control Program
Win McNamee/Getty Images News/Getty Images
Following the tragic Feb. 14 school shooting at Marjory Stoneman Douglas High School in Parkland, Florida, gun control is the topic on everyone's mind. Social media has been blowing up with debates surrounding the issue, but it's up in the air whether any change will occur. Well, in other bad news, Donald Trump's budget cuts millions from gun background checks. As if this week couldn't get worse.
Trump released his 2019 fiscal budget proposal on Feb. 12, just a few days before the shooting in Parkland which killed 17 people. But the day after the shooting, as the question of how mass shootings and tragedies like this can be prevented, critics noticed something interesting about Trump's budget plan. Trump's proposal plans to cut millions of funds to the National Instant Criminal Background Check System (NICS), which prevents firearms from being sold to unsuitable candidates as well as organizes gun transfers to eligible gun buyers, according to The Huffington Post. The change in funding is found on page 719 of the proposal.
According to the budget, Trump would cut funds to the National Criminal Records History Improvement Program and The National Instant Criminal Background Check System's Act Record Improvement Program, both of which provide state grants in order to help states improve their reporting of information like criminal records or domestic violence records to the national background check system. Elite Daily reached out to the White House for comment on the funding proposal, but didn't hear back by the time of publication.
According to The Huffington Post, both programs together have a budget of $73 million, and come Oct. 1 Trump plans to slash those by 16 percent, leaving their funding at $61 million if this proposal goes through.
Background checks are key elements in order to ensure firearms don't fall into the wrong hands, and are meant to display criminal records, history of mental illness, substance abuse problems, and more. However, there have been many problems over decades concerning holes in the system. Unsuitable candidates have regularly passed background checks and allowed to purchase firearms, leading to mass shootings such as the 2015 Charleston, South Carolina church shooting, where the shooter shouldn't have been eligible to purchase a firearm due to drug possession, or the 2012 Aurora, Colorado movie theatre shooter, who purchased guns from three separate locations in order to avoid notification to law enforcement.
According to The New York Times, NICS has prevented more than 2.4 million sales of firearms from unsuitable applicants, but the system also has big problems, such as a variety of loopholes that allow ineligible candidates to purchase firearms. These loopholes include state clerical errors, hazy rules concerning what qualifies as mental illness, as well as private party sellers that don't require background checks.
Dan Gross, president of the Brady Campaign to Prevent Gun Violence, spoke to The Times about the issues facing NICS's background check, saying that the program certainly had the potential to work well. "It works tremendously well when it's given the tools to work," Gross told The Times. "But it's widely inconsistent from state to state."
So it's safe to say Trump's proposed budget changes won't help an already troubled program.
The recent tragedy in Parkland has spurred individuals to speak up about gun control. Students of Marjory Stoneman Douglas High School in particular called for stricter gun control laws. They took to news outlets to emphasize that though they knew how to handle a mass shooting situation, they shouldn't have to.
Hours following the school shooting, Connecticut Democratic Senator Chris Murphy took the Senate floor to emphasize the gun violence epidemic plaguing America.
He said,
Let let me just note once again for my colleagues: this happens nowhere else other than the United States of America. This epidemic of mass slaughter, this scourge of school shooting after school shooting. It only happens here not because of coincidence, not because of bad luck, but as a consequence of our inaction. We are responsible for a level of mass atrocity that happens in this country with zero parallel anywhere else. As a parent, it scares me to death that this body doesn't take seriously the safety of my children, and it seems like a lot of parents in South Florida are going to be asking that same question later today.
Of course our thoughts are with those affected by the Parkland shooting. However, change must be made if we want to make sure this horror never happens again.
If you're asking what you can do for the victims and their families of this tragedy, here's a rundown of all the ways you can help.