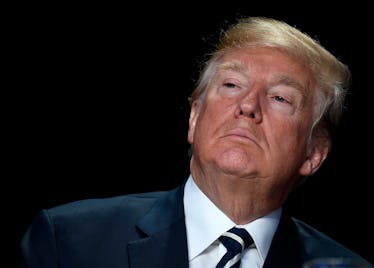 Donald Trump's Budget Includes Billions For A Border Wall, Because Of Course
Pool/Getty Images News/Getty Images
While Congress is busy ensuring the government is funded through the rest of 2018, President Donald Trump rolled out his latest budget proposal for the 2019 fiscal year on Monday, Feb. 12. The $4.4 trillion plan doesn't exactly fulfill his campaign promise to balance the budget. But what's in Trump's budget is still critical.
Trump's proposal comes just a few days after signing a budget deal, struck by Congress after long negotiations, that would extend the government's borrowing authority through March 2019. Though the proposal released Monday is unlikely to make it through Congress in its current form, the programs it prioritizes for funding — and those it places on the chopping block — are telling of the Trump administration's agenda.
What would get more funding?
Trump's proposal adds to the deficit he promised to eliminate, effectively trampling over some of his signature campaign promises. The budget would add $7 trillion more debt on top of the $1.5 trillion that has been tacked on as a results of the GOP's tax plan passed late last year. These spending increases would come in a variety of places.
The proposal also seeks $200 billion in funding to expand infrastructure, including $18 billion to build a wall on the Mexican border.
It's unsurprising the wall made it into the proposed budget, as the border wall is a bargaining chip Trump has been pushing over the course of his presidency, including it in proposed deals on immigration and previous budget proposals. The budget also includes $782 million to hire more immigration officers, and $2.7 billion to bulk up detentions of illegal immigrants.
While the Deferred Action for Childhood Arrivals (DACA) program and the fate of undocumented immigrants became a make-or-break-it issue during Congress' budget negotiations, Trump's proposal fails to mention the program, which protects undocumented immigrants who arrived in the United States as children from deportation.
Another big-ticket item in the budget proposal is massive funding increases for the Pentagon, to the tune of $80 billion, or a 13 percent increase.
The budget also requests $85 billion in funding for veteran care and direct another $13 billion towards the opioid crisis, including for mental health and treatment programs.
Despite adding to the deficit — something many GOP conservatives would gawk at — as Washington Post Congressional reporter Erica Werner points out, House Speaker Paul Ryan (R-WI) released a praising statement of Trump's proposal. "Hard to imagine Ryan responding this favorably to an Obama budget that failed to balance and projected rising deficits," wrote Werner.
The proposal would add that $7 trillion to the federal deficit over the next ten years, with close to $ 1 trillion alone over the next year, bringing the grand total up to $30 trillion.
What would the proposal cut?
There are many government agencies that would see massive cuts as a result of the budget, and a solid handful — 22 in all — would be eliminated entirely.
Most notably, and perhaps unsurprisingly, the budget makes major cuts to the arts, sciences, environmental agencies, and social welfare.
Prominent items on the chopping block are "lower priority programs," including the Environmental Protection Agency's (EPA) climate-change projects. The EPA's budget would be slashed 34 percent, and would halve the Office of Science and Technology's budget, according to the Times, while public broadcasting and the National Wildlife Refuge Fund would take hits as well.
Other prominent targets are entitlement programs like Medicare, Medicaid, and food stamps, totaling a $1.7 trillion decrease over the next decade.
Additionally, across-the-board cuts would come to global health initiatives, per a thread by Kaiser Family Foundation's Vice President Jen Kates. Among those are things like funding for HIV/AIDs prevention programs and family planning.
Population Connection, which fights for universal access to voluntary family planning, affordable contraceptives, and real sex education, said in a statement obtained by Elite Daily that these cuts would be dire for women's reproductive healthcare. "This budget proposal indicates that this administration will continue to push a dogmatic agenda to deny people everywhere access to contraceptives," says PC Action Fund Senior vice president for media and government relations Brian Dixon. He continues,
Couple this budget's call for a shift of global family planning and reproductive health support to 'fertility awareness' programs with Trump's Global Gag Rule and you get greater unmet need for contraceptives and all the suffering that comes with that.
This proposal also goes against what Congress has been working towards.
Trump's new proposal breaks ranks with the budget deal reached by the Senate just days ago. While the deal Trump signed off on just three days ago secured $300 billion increases to defense and domestic spending, the Trump administration's new proposal walks back the allotment for non-defense spending by $57 billion.
Office of Budget Management director Mick Mulvaney explained the reason for the change in a letter to House Speaker Paul Ryan (R-WI), per The New York Times. "The administration does not believe these nondefense spending levels comport with its vision for the proper role and size of the federal government," Mulvaney wrote.
What does Trump's proposal mean moving forward?
It's worth noting that any final budget would have to pass both chambers of Congress, and as we've seen with the current setup, that's a task easier said than done. No one is counting on this proposal to go anywhere. Still, they're important to take into account.
"White House budgets are always dead on arrival, but they're still useful documents that show what a president does and does not value," wrote Bloomberg's Sahil Kapur on Twitter.
Given that Congress is already enmeshed in their own fiscal processes, this budget proposal will probably go no further than this. But it's still a critical piece of information that shows where the president's agenda is.