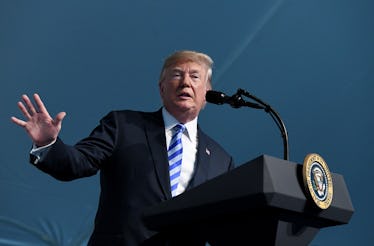 Donald Trump Reportedly Thinks Kim K & Kanye Are Helping Him With Black Voters, & OK
Handout/Getty Images News/Getty Images
The Kardashians have somehow managed to make themselves heard in Washington D.C., of all places. Just a couple of weeks ago Kourtney Kardashian appeared on Capitol Hill to lobby for cosmetics regulation reform, and on May 30 Kim Kardashian had a meeting with none other than President Donald Trump in the White House. And in that meeting, Donald Trump told Kim Kardashian that she and Kanye West helped him with Black voters, according to a report from Bloomberg. Which, to be honest, is definitely a concerning sentiment.
The Keeping Up With The Kardashians star met with both Trump and senior adviser and son-in-law to the president Jared Kushner during her time in the nation's capital on May 30 to discuss prison and sentencing reform. But supposedly, that's not all they talked about. According to sources who spoke with Bloomberg, at some point during their time together, Trump reportedly told Kardashian that he thinks she and her husband have been helping him boost his numbers when it comes to Black voters. Which is um, an interesting thing to bring up, considering it had nothing to do with the purpose of the meeting. The White House did not immediately return Elite Daily's request for comment on the meeting and reported exchange.
But hey, it's not like we didn't already have clues that the meeting was more than a little awkward.
This isn't the first time that Trump has mentioned the influence that he thinks the Kardashian-West family has had on his popularity among Black voters. When I say "popularity," I'm using the term lightly. In a speech he delivered on May 4 at the NRA's annual conference in Texas, he referred to West's influence. "Kanye West must have some power because you probably saw I doubled my African American poll numbers. We went from 11 to 22 in one week," said the president. Trump was apparently referring to a fairly recent Reuters poll that showed his approval rating among Black men had risen from 11 percent to 22 percent, from the week of April 22 to 29. Reuters, however, considers the number of respondents from the weekly poll too small for the statistic to be considered a legitimate one, per Bloomberg.
But the tweets are definitely legit. Trump was obviously referring to the series of bizarre tweets from West, where on April 25 he showed his apparent support for the president. In the first of several tweets West said he and the president had "dragon energy," saying,
You don't have to agree with trump but the mob can't make me not love him. We are both dragon energy. He is my brother. I love everyone. I don't agree with everything anyone does. That's what makes us individuals. And we have the right to independent thought.
West also tweeted a picture of a "Make America Great Again" hat signed by Trump himself, which the president subsequently retweeted. West also posted a screenshot of the president's retweet, which concerned many of his fans that he is in full support of Trump.
There's no telling whether or not Trump's claims that West and Kardashian have helped him amp up his approval rating among Black voters. That same poll from Reuters shows that Trump's approval rating among all Black voters rose from 12 percent in April to 18 percent in May. But is this specifically due to West's Trump Twitter tirade? That's one question that I'm not sure will ever be definitively answered.
If you're wondering what Kardashian was doing in a meeting with the president, the reality star has taken up the cause of Alice Marie Johnson, a 63-year-old woman who has served over two decades of a life sentence in prison after being convicted in 1997 for her role in in a multimillion dollar drug ring. Kardashian, who saw Johnson's story in a video by Mic, was lobbying for her to be pardoned after serving 20 years of that sentence.
In December 2016, former President Barack Obama granted clemency to 231 people, most of whom were imprisoned for drug related crimes. There was a set criteria that needed to be met in order to grant clemency, which Johnson believed she matched, according to an op-ed she wrote for CNN in 2016. But sadly she was not pardoned, and Kardashian has since been lobbying for Johnson's pardon and fighting on her behalf. Trump has not granted Kardashian's pardoning request as of yet — but has pardoned other individuals for other various reasons. One such individual was Dinesh D'Souza, whom Trump pardoned following the meeting with Kardashian. D'Souza, who was convicted on finance violation charges in 2014, is a controversial conservative political commentator, so the pardon was definitely a controversial one.
Just because Kardashian came to Washington to talk about something that's actually serious doesn't mean that Trump didn't manage to reportedly find a way to talk about himself and his supposed success among the Black vote. Everyone has a right to their own opinions, but I think Trump's theory — relevant or no — may be a bit of a stretch here.