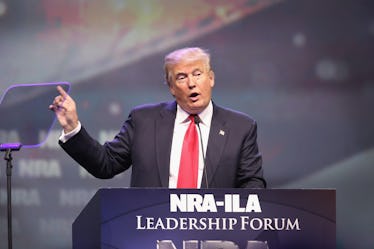 Families Of Parkland Victims Say They're Still Waiting For Donald Trump To Call
Scott Olson/Getty Images News/Getty Images
It's been nearly three months since the tragic Valentine's Day school shooting in Parkland, Florida. Since then, a lot has happened. The student survivors, the families of the victims, and their allies have come together and created a new national movement to end gun violence in this country, which is pretty impressive. But one thing that that hasn't happened? President Donald Trump still hasn't contacted families of the Parkland victims, according to a report — and following Trump's mention of the shooting in a speech to the NRA, many of the families are deeply upset about it.
According to BuzzFeed News, seven out of the 17 families which tragically lost loved ones at Marjory Stoneman Douglas High School in Parkland, Florida on Feb. 14 still have not personally heard from the president. The media outlet spoke to eight of the victims' families, seven of whom said they had not heard from Donald Trump. The remaining nine declined to comment or did not respond. And following a particularly high profile appearance that Trump made at an NRA event, some parents chose to speak out against the president's lack of action toward them.
The president was invited to speak at the annual NRA convention in Dallas, Texas, on May 4. During his nearly hour-long speech, Trump mentioned the Parkland shooting and shared his condolences with the victims and their families. In the speech the president said,
Our entire nation was filled with shock and grief by the monstrous attack on a high school in Parkland, Florida. We mourn for the victims and their families.
Upon hearing this quote from Trump's speech, Philip Schentrup (whose 18-year-old daughter Carmen was killed in the shooting) took to Twitter to express his anger over the fact that the president had not reached out to send his condolences to Schentrup personally. The tweet read as follows,
Trump said, 'Our hearts break for every American who has suffered the horrors of this school shooting.' Surprising since I've never heard from him, Pence, or his staff since Carmen's murder. Received heartfelt outpouring from thousands of other Americans. They make America strong
Elite Daily reached out to the White House for comment, but did not hear back at the time of publication.
Many of the student survivors from Parkland have been extremely critical of the NRA since the shooting, so the offering of condolences from Trump at this particular event definitely seemed out of place. The student survivors from Parkland have appeared on numerous news programs to share their views on gun legislation in this country — and they've been very vocally critical. Student leaders have publicly called out lawmakers who they believe are are unwilling to enact serious gun reform in the U.S. because they have received support (monetary or otherwise) from the NRA.
Moreover, it just doesn't seem right for Trump to offer his public condolences if he hasn't sent his personal ones to the actual families that lost their loved ones in this shooting. And using this comment about sending his condolences during an NRA speech — one where Trump reiterated his intention to arm school teachers as a means of protection — just does not sit well.
As Fred Guttenberg, the father of 14-year-old victim Jaime Guttenberg, explained to BuzzFeed News, "nobody has the obligation to offer condolence... However, don't use my daughter's life for a political moment, and that's what he did, and that pisses me off." In a story shared with Marie Claire after the shooting, Guttenberg said he was dedicating his life to fighting gun violence in his daughter's memory.
The president has reached out to the family of Meadow Pollock, who was also killed in the shooting. Meadow's brother Hunter Pollock tweeted a picture of a letter from Trump on March 26. The letter itself, dated March 12 and signed by Trump, read in part,
Our entire Nation mourns the tragic loss of Meadow... I am deeply grateful for your your presence at the White House for discussions regarding school safety... Melania and I hold you close in our hearts, and we pray for your comfort and strength.
Andrew Pollock, Meadow's father, has been a vocal supporter of adding armed personnel, a policy that Trump has advocated in schools, according to BuzzFeed News. Pollack said that he's met with the president twice since the shooting.
All politics aside, there's no denying that each of the families are suffering equally tragic losses. And each of those losses should be treated as such.