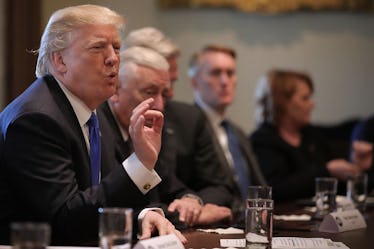 Donald Trump Keeps Contradicting Himself On DACA — Here's What He's Said
Chip Somodevilla/Getty Images News/Getty Images
In our lives, we often pivot back and forth when it comes to making decisions. It's not easy for anyone to do, but our president takes it to an entirely different level. When it comes to Deferred Action For Childhood Arrivals (DACA), the president keeps giving mixed messages — and honestly, it's a lot to keep up with. Donald Trump's quotes about DACA in the battle for immigration reform prove that he isn't clearing it up any time soon.
On Tuesday, Jan. 9, during a public bipartisan meeting with congressional Republicans and Democrats, Donald Trump appeared to be open to endorsing an immigration deal, according to the New York Times. In a rare move, he said,
We'll do DACA. Then we can start comprehensive immigration reform the next afternoon.
But according to CNN, he wasn't quite clear on what "doing DACA" would be — whether that would be a standalone fix, or part of the mentioned comprehensive immigration reform. The president said that the effort should be a "bipartisan bill of love," and said he would rely on lawmakers to come up with the legislation, adding that he would still support it — even if he wasn't "in love with it." He said,
I think my positions are going to be what the people in this room come up with. If they come to me with things I'm not in love with, I'm going to do it. Because I respect them.
But Trump also once again tied a deal on DACA to his longstanding plans to build a border wall in Mexico, a bargain he's repeatedly said he hoped to make on immigration. That same evening, he shared on his Twitter that his proposed southern border wall would have to be included for him to approve a DACA deal.
Trump has been back-and forth in his ideas regarding DACA.
He's said some pretty mixed things about DACA, which gives temporary amnesty to around 800,000 young undocumented immigrants who arrived in the Unites States as children. The program provided them with a renewable two-year period of protection from deportation, as well as the right to work legally.
During an Aug. 2016 campaign speech, he promised to crack down on illegal immigration and "immediately terminate" then-President Obama's executive orders on immigration, by which he was referring to DACA. Then, in a strange plot twist, he showed sympathy for the people in the program, saying that they shouldn't be worried. In a Jan. 25, 2017 interview with David Muir, he said,
They are here illegally. They shouldn't be very worried. I do have a big heart. We're going to take care of everybody.
But as president, he ended the program: On Sept. 3, 2017, the Trump administration announced they would end the Obama-era program, ending protections for those covered. But Trump also gave Congress a six-month window to pass a replacement before the existing program phased out. In a statement about the decision, Trump said that DACA would be resolved with "heart and compassion," but put DACA recipients after citizens. He said,
As I've said before, we will resolve the DACA issue with heart and compassion – but through the lawful Democratic process – while at the same time ensuring that any immigration reform we adopt provides enduring benefits for the American citizens we were elected to serve. We must also have heart and compassion for unemployed, struggling, and forgotten Americans.
Later in September 2017, it seemed like the president was for DACA, when he seemed to have struck a deal with Democratic leaders Rep. Nancy Pelosi and Sen. Chuck Schumer to protect DACA. On Sept. 13, Schumer and Pelosi made a joint announcement that Democrats and the president had reached an agreement to protect DACA in exchange for better border security, not including a wall. However, that supposed deal quickly fell through, when Trump tweeted out that "massive border security" would have to be part of a deal.
And then on Dec. 29, 2017, Trump insisted he receive more from Democrats in exchange for DACA protections — namely, his border wall. He wrote in a tweet,
The Democrats have been told, and fully understand, that there can be no DACA without the desperately need WALL at the Southern Border and an END to the horrible Chain Migration & ridiculous Lottery System of Immigration etc. We must protect our Country at all cost!
Well, I guess he kind of does know what he wants — a border wall. But when it comes to DACA itself, all he really seems to want to do is use it as a bargaining chip to try to get his wall built.
So all that said, we shouldn't get too riled up by Trump's latest ideas in immigration reform. The next contradiction may be right around the corner.