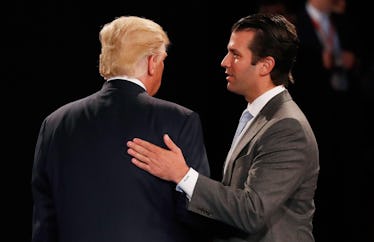 I Guess We Gotta Talk About Don Jr.'s Bad Tweets About Eric Schneiderman
Pool/Getty Images News/Getty Images
Yup, it's that time of day again: the president's oldest child tweeted something questionable. This time around, it's Donald Trump Jr.'s tweets about Eric Schneiderman that are raising eyebrows, and for a handful of good reasons. Following the New York attorney general's resignation over assault allegations, the president's son did not hide his glee, although perhaps he should have thought for a minute before tweeting (like father like son, huh?).
On Monday evening, May 7, The New Yorker published a report by Jane Mayer and Ronan Farrow featuring four women's allegations of physical and psychological abuse by Schneiderman within romantic relationships. "In the privacy of intimate relationships, I have engaged in role-playing and other consensual sexual activity. I have not assaulted anyone. I have never engaged in nonconsensual sex, which is a line I would not cross," Schneiderman told The New Yorker in a statement. Still, within four hours of the article's publication, Schneiderman had resigned as attorney general for the state of New York.
Schneiderman was a liberal Democrat who very publicly supported women's rights on a range of issues, from abuse and assault to abortion access. He has also stood up to the Trump administration and been a vocal critic of President Donald Trump's politics.
It is, apparently, with this in mind that Trump Jr. started tweeting on Monday evening.
"This didn't age well," Trump Jr. tweeted, re-posting an old tweet of Schneiderman's about fighting for sexual assault survivors. This was one of several smirking tweets Trump Jr. sent following the New Yorker article and the resignation.
"Self awareness level: 0 Or substantially less than that," Trump Jr. tweeted, re-posting a Schneiderman tweet from April commending reporting on sexual assault.
Some might argue that one could say the same thing about Trump Jr.'s tweet. Schneiderman was accused of sexual misconduct by four women, denied those accusations, and resigned. President Donald Trump has been accused of sexual misconduct by at least 16 women, has denied those accusations, and is still in office. This was a series of facts that many pointed out following Trump Jr.'s "self awareness" tweet on Monday evening.
Presidential counselor Kellyanne Conway found herself facing similar criticism after she tweeted "gotcha" about the Schneiderman news.
The #MeToo era has been having a major impact on politics, with several high-profile resignations following allegations of sexual misconduct. While Democrats like Schneiderman and Al Franken have swiftly stepped down following allegations, Republicans like President Trump, Roy Moore, and Missouri Governor Eric Greitens have refused to step aside, in spite of calls — some from within their own party — to do so. (Franken said in his resignation that, "Some of the allegations against me are simply not true. Others I remember differently." Moore repeatedly denied allegations of pursuing underage girls. Greitens has denied allegations of blackmailing, physically abusing, and coercing a woman he was having an affair with.)
Aside from those elected officials, the Trump administration was also roundly criticized for their handling of domestic abuse allegations made against White House staffer Rob Porter, who resigned in February, following the publication of those allegations. Porter has denied allegations from two ex-wives of domestic abuse. The White House came under criticism for reportedly knowing about the allegations and still allowing him to work there. White House Chief of Staff John Kelly said in February that he was "shocked by the new allegations," although information reported by The New York Times in late April indicated that White House counsel Donald McGahn was informed about the allegations in March 2017. President Trump, meanwhile, was criticized for his response to the allegations, in which he sympathized with Porter.
This is a good time to remember that sexual misconduct is bad no matter to offender's political leaning and that sexual misconduct is committed by people of all political leanings. Political parties and individuals do, however, have control over how they react to allegations.
Anyways, that wasn't the end of Trump Jr.'s problematic tweets. Several of his tweets about Schneiderman were — I can't believe I'm writing this — about eyeliner.
This seems to also be something he picked up from his father.
These comments are rich coming barely a week since Michelle Wolf got lambasted for pointing out that White House Press Secretary Sarah Huckabee Sanders lies while wearing eyeshadow.
The "eyeliner" remarks also speak loudly to a certain level of outdated toxic masculinity. It's 2018, Don Jr. If you're not wearing eyeliner, you're missing out.