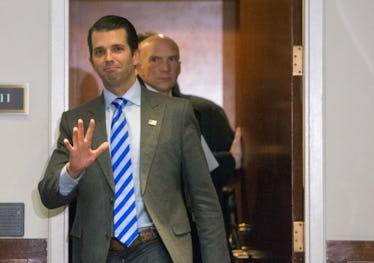 Donald Trump Jr.'s Obama Cake Might Be The Weirdest Thing We've Seen From Him
Tasos Katopodis/Getty Images News/Getty Images
The president's eldest son has outdone himself again, this time in reference to former President Barack Obama. Donald Trump Jr.'s Obama cake Instagram post is one for the record books. It's up for debate exactly which metaphorical record the post might've broken, but it was one the social media world won't be forgetting anytime soon.
The post was shared from Trump Jr.'s official account on Sunday, Dec. 17, while he was in Dallas. Senator Ted Cruz (R-TX) is in the photo with him, though Cruz looks less interested than his companion. Trump Jr. proudly holds up a baked good with a man's face on it — which is supposed to be Obama, according to the caption — while making a contorted face. The baked good was apparently an early birthday present.
"With friends like these... some good friends decided that while my birthday is not for 2 weeks that they would get me an early 40th birthday cake," Trump Jr. wrote in the post's caption. "And what birthday is complete without an Obama cake? I figured it was so good that I would have to share it with Ted."
In general, most people didn't take too well to the post and for a variety of reasons.
First, it wasn't clear that the thing Trump Jr. was holding was even a cake.
Check out Trump Jr.'s post for yourself:
Many people pointed out that the "cake" looked suspiciously like a cookie, and I have to agree. (Have you ever seen a cake? You can't pinch it between two fingers and hold it up in front of you like a diploma. That's hint number one.)
Secondly, it wasn't apparent that the image was actually Obama.
Though the cookie made a clear reference to the "Hope" poster of Obama created by Shepard Fairey, the resemblance was strained enough that people were concluding it was actually someone else.
While multiple people corrected in the comments that the cookie was actually Ajit Pai, some Twitter users had drawn other comparisons.
One user tweeted, "He is not bright. First it's not a cake but a cookie and the pic is not Obama, but Mueller."
"First of all, that cake looks more like Kanye than it does Obama," another user wrote.
Aside from the factual debates, lots of people were calling out the cookie/cake over racism.
"Don Jr. is obnoxiously racist," wrote pollster Matt MCDermott, rattling off a list of problems with the post.
"Wow. Looks like college kids doing racist minstrel show on cake of Obama," another user commented.
People also pointed out the sheer strangeness of the situation.
It's worth noting, as the Huffington Post's Ashley Feinberg did, that Trump Jr. shared three photos of the cake (because one isn't enough to convey the nuances of this important artistic work).
"Absolutely normal / inoffensive that son of sitting president would eat a cake adorned with the image of Barack Obama. From the classy Instagram account of @DonaldJTrumpJr," wrote NBC's Katie Engelhart.
"No class at all," commented one user on the Instagram post. "[O]h hi, we're two Very Normal people eating Barack Obama's head," International Business Times reporter Alex Kotch wrote.
Whoever was featured on the dessert, users apparently didn't think he was unattractive.
Numerous users commented that the indiscriminate baked good (of whose face it remains a mystery) had something going for it.
"Cake Obama still looks better than either of them," tweeted one user.
"I love how the messed up Obama face in the cake is still better looking than the white men in this pic," another said.
It's not the only cringe-worthy post we've seen by Trump Jr.
It's difficult to say whether this post would win any awards, and which superlative that would be — Strangest? Most Embarrassing? Highest Number Of People Questioning Whether You Know The Key Characteristics Of Baked Goods?
But Trump Jr.'s latest joins a pantheon of memorable posts. There was this one tweet about Halloween candy where he threw socialism under the bus and got an earful. There was his infamous bowl of Skittles analogy to explain his theory of banning refugees. And while you can't fault him too much for getting his dates wrong in posting about the Virginia election (though no one's letting that go), his vaguely threatening comment to Jennifer Lawrence was up there.
Trump Jr.'s post was also great timing, given that the Supreme Court is currently weighing a controversial case on whether a cake maker in Colorado had the right to refuse to bake a cake for a gay couple's wedding.
The post was also somewhat surprising for some, considering Cruz's roller coaster relationship with the Trump family. Whatever the beef there is, it looks like Cruz and the eldest Trump son are friendly enough at the moment — at least to bond over an anti-Obama confection.
In a sense, the whole thing is a big cultural touchstone. If someone were to ask me about the current state of our nation's political affairs, at least I'd have a good answer: "Well, the president's son and political frenemy tried to mock the former president with an ill-executed cookie." And that just about sums it up.