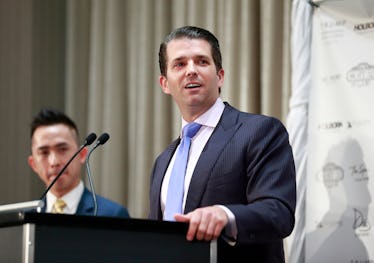 Donald Trump Jr.'s Virginia Election Tweet Has A Big Mistake & Yikes
Jeff Vinnick/Getty Images News/Getty Images
In an attempt to push his followers to vote for a candidate in a Virginia race on Tuesday, Nov. 7, the president's son made an embarrassing mistake. Donald Trump Jr.'s tweet about the Virginia election got his days wrong — twice. Trump Jr. was promoting Ed Gillespie, the GOP candidate for the state's governorship, over Democratic candidate Ralph Northam.
The Daily Mail reports that on Tuesday at about 8 a.m. ET, Trump Jr. had tweeted, "Let's take Ed Gillespie across the finish line tomorrow! Virginia: get out and vote for Ed & entire @GOP ticket."
Just a few hours later, Trump Jr. sent a tweet that read, "Virginia, the future of the Commonwealth is at stake tomorrow. Find your polling place at http:// vote.gop to vote Ed for #VAGov." Election Day, by law, always falls on the Tuesday following the first Monday of November (or the first Tuesday after November 1). Any way you cut it, it's definitely not on a Wednesday.
"Think you mean today not tomorrow," CNN host Jake Tapper replied to his tweet.
The Virginia gubernatorial race is an important political touchstone for both parties. The outcome of this particular election is widely seen as the first litmus test for Democrats and Republicans since Trump took office one year ago. Particularly in a "purple" state like Virginia that leans Democratic (the state last year went for Hillary Clinton by five points), it's an indicator of where the parties might be able to see future successes, especially in the 2018 midterm elections.
Trump Jr.'s father, by contrast, got the day right (twice!). On Tuesday, the president sent out several of his own get-out-and-vote tweets multiple times early Tuesday promoting Gillespie. ".@EdWGillespie will totally turn around the high crime and poor economic performance of VA. MS-13 and crime will be gone. Vote today, ASAP!," he tweeted Tuesday. He followed with, "Ralph Northam will allow crime to be rampant in Virginia. He's weak on crime, weak on our GREAT VETS, Anti-Second Amendment........and has been horrible on Virginia economy. Vote @EdWGillespie today!"
Trump, though currently overseas on his Asia trip, has been pushing for Gillespie for days. After Trump-endorsed candidate Luther Strange lost the election to Roy Moore in Alabama, all eyes are on Virginia to see whether Trump's favorite will again see defeat at the polls. (Trump appeared to have deleted some of his tweets supporting Strange after the results came out, by the way.)
Trump Jr. eventually corrected his mistake. After deleting both tweets, at about 2:30 p.m. ET, he tweeted with the correct day. And earlier in the day, he'd gotten the days right, sending a tweet just before 11 a.m. ET.
But the senior Trump has made the very same mistake himself. Back when he was still campaigning for the presidency in October 2016, Trump urged voters at a rally in Panama City, Florida to vote on Nov. 28 — not Nov. 8, which was Election Day that year.
You'd think the first family would have no trouble getting their days right for arguably the most important democratic event of the year. But the larger debate of "Why do we vote on a Tuesday?" has been going for a long time. Lots of Americans struggle to get to the polls in the middle of the week. There's been pushes for a while now about changing our election day to another day, such as a weekend. But who knows if Trump Jr.'s bungle would've been avoided on a Saturday?
For the sake of democracy, we can only hope that the 2.2 million followers of Trump Jr.'s account didn't postpone their voting plans by 24 hours.