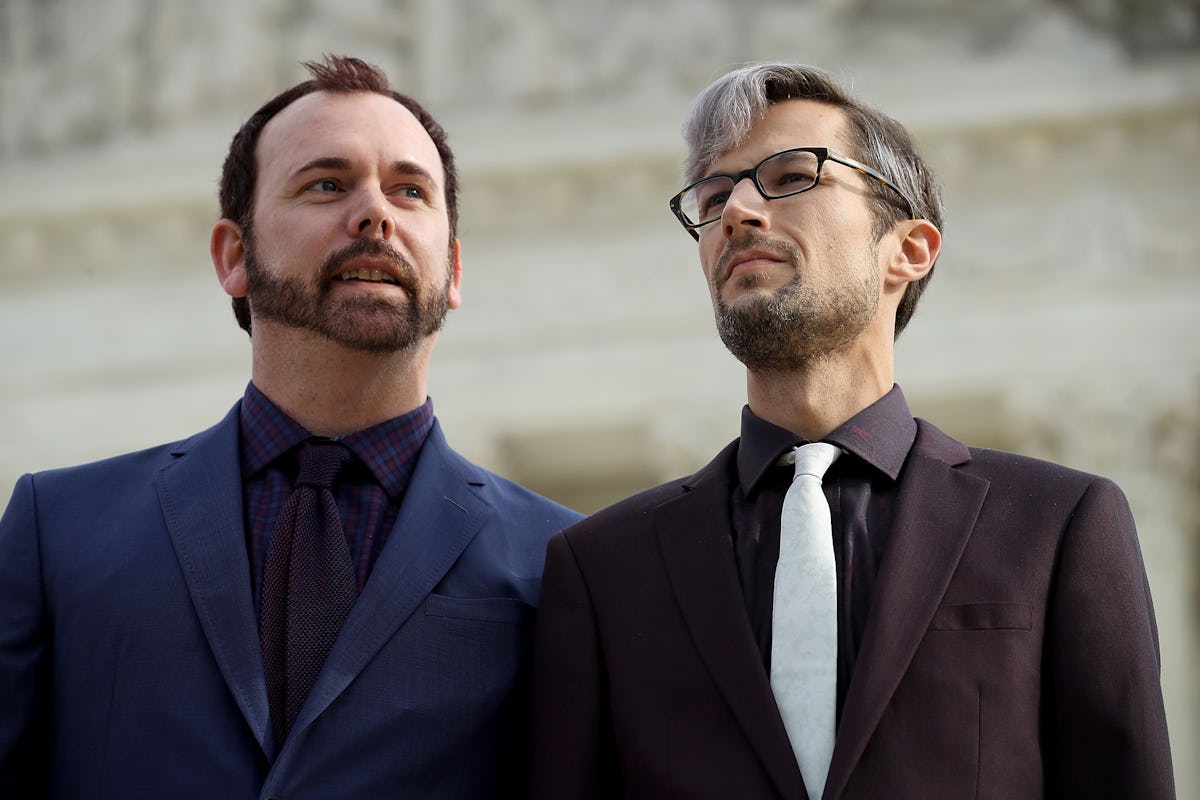 Here's What The Supreme Court Cakeshop Case Could Mean For You
Chip Somodevilla/Getty Images News/Getty Images
A gay couple is receiving national attention as their discrimination case is being heard by the country's highest court. The Masterpiece Cakeshop case in the Supreme Court, which began last week, boils down to whether a baker has the right to refuse to make a wedding cake for a customer because of his faith. The case has reignited the decades-old legal controversy of religious freedom versus protection from discrimination.
I spoke with Sarah Kate Ellis, President and CEO of GLAAD, an advocacy organization that works to advance the LGBTQ+ narrative in the media, about the case. Ellis is concerned about the case's implications for not just for the gay community, but for all Americans.
"It's not about a cake. It is about whether a business or service provider should be allowed to legally deny service to fellow Americans, simply because of who they are, by citing a religious belief," Ellis says of the case. "These implications are enormous and limitless, honestly."
What happened?
When fiancés David Mullins and Charlie Craig wanted to order a cake from Masterpiece Cakeshop in Colorado for their wedding reception, owner Jack Phillips declined, offering to make them any other good except one that he felt would symbolically condone the marriage that went against his religious beliefs.
The couple filed a complaint with the Colorado Civil Rights Commission and won. Unhappy, Phillips brought his case to the Colorado Court of Appeals, which also held that Colorado state law prohibited business owners from discriminating based on a customer's sexual orientation. Phillips then took his case to the Supreme Court.
Some have taken the side of Mullins and Craig and argue that the couple shouldn't face discrimination. New York Attorney General Eric Schneiderman was joined by more than a dozen colleagues in an amicus brief supporting LGBTQ+ rights.
Others, including people who identify themselves as LGBTQ+, have voiced their support for Phillips, advocating for the right to one's beliefs and choose who to serve as a business owner.
Here's what's on the table for the Supreme Court.
On Tuesday, Dec. 5, the Supreme Court heard oral arguments for Masterpiece Cakeshop v. Colorado Civil Rights Commission. At question in the case is whether Phillips violated the Colorado Anti-Discrimination Act (CADA), essentially a state-level version of the federal Civil Rights Act prohibiting discrimination, including based on sexual orientation.
The couple, Mullins and Craig, are being represented by the American Civil Liberties Union (ACLU). Phillips is represented by the Alliance Defending Freedom (ADF). ADF has been designated as a hate group by the Southern Poverty Law Center, which compiles watchdog maps of active discriminatory groups nationwide.
Phillip's counsel based their arguments around the First Amendment, claiming that his cake-making is a form of artistry protected under free speech and freedom of expression.
In an op-ed in the Washington Times, senior vice president to ADF's legal division Kristen Waggoner defended Phillips as both artist and devotee. "Jack wants to live out his faith by creating art that honors God," Waggoner wrote, referring to Phillips' cakes. "The religious beliefs that inspire his life denounce discrimination. ... But he cannot convey all messages or celebrate all events, particularly those that promote what his faith prohibits."
Per the Washington Post, solicitor general Noel Francisco said it was akin to having a black sculptor being forced to make a cross for the KKK. Francisco, a Trump nominee, was appointed to the position in September of this year.
CNN reports that the liberal justices — especially Elena Kagan — questioned who would qualify as an artist following that argument. Would a makeup artist, hair stylist, or photographer also be allowed to pick and choose? Essentially, giving one business owner leave to discriminate could lead to all business owners being allowed to discriminate.
All eyes, however, are on Justice Anthony Kennedy, who in 2015 wrote the majority decision for the Obergefell v. Hodges case (AKA the Defense of Marriage Act case), which effectively legalized same-sex marriage nationwide. His vote is seen as the tie-breaker in this case.
During the Masterpiece Cakeshop hearing on Tuesday, Dec. 5, Kennedy expressed concern that allowing cake-makers (as well as any other providers of goods or services) nationwide to legally refuse to serve gay couples could be to a slippery slope towards criminalizing same-sex marriage itself. But on the other hand, Kennedy seemed to question if there was anti-religious bias in the Colorado decision. Of particular concern was a comment by one of the state's commissioners saying that to use religion "to justify discrimination is a despicable piece of rhetoric." The sentiment didn't sit well with Kennedy.
Ellis isn't sure which was the decision will go. "[Kennedy]'s moved in our favor in the past," she says. "However, we're living in a different America. You can't take anything for granted these days."
This case has wider implications for the LGBTQ+ community.
As an LGBTQ+ parent herself, Ellis is concerned about how far potentially legal discrimination could go, and if it means "being denied services from a pediatrician, or life-saving services from an EMT."
More broadly, the decision would serve as a canary in the coal mine, signaling whether anti-gay groups can make any headway in rolling back LGBTQ+ rights under the current court. Earlier this year, President Donald Trump's appointee for the vacant court seat left by the late Justice Antonin Scalia, Justice Neil Gorsuch, was seen as a win for anti-LGBTQ+ activists, as another conservative on the Supreme Court.
"If this decision comes out against the LGBT community, it sets a dangerous precedent," Ellis says. "It says that businesses have the right not to serve LGBTQ people ... It is absolutely a step back for our equality."
The decision could also affect non-LGBTQ+ individuals.
Ellis is concerned that a decision in favor of Phillips could open the door to discrimination against even heterosexual individuals — anyone who might run counter to a person's religious beliefs. One potential target could be women of reproductive age, whose birth control rights could be jeopardized, or an unmarried couple who's pregnant, she says.
Ellis seems cautiously optimistic, and her faith in the community is unshakeable. "Here's the deal with LGBT people," she says. "When the cards are stacked against us, we rise as a community. Everything we've achieved at this point has been hard fought. It is in these times that we see the best of our community, because we won't sit down, we won't be quiet, and we won't back down. Our lives depend on it; they've depended on it from the beginning."