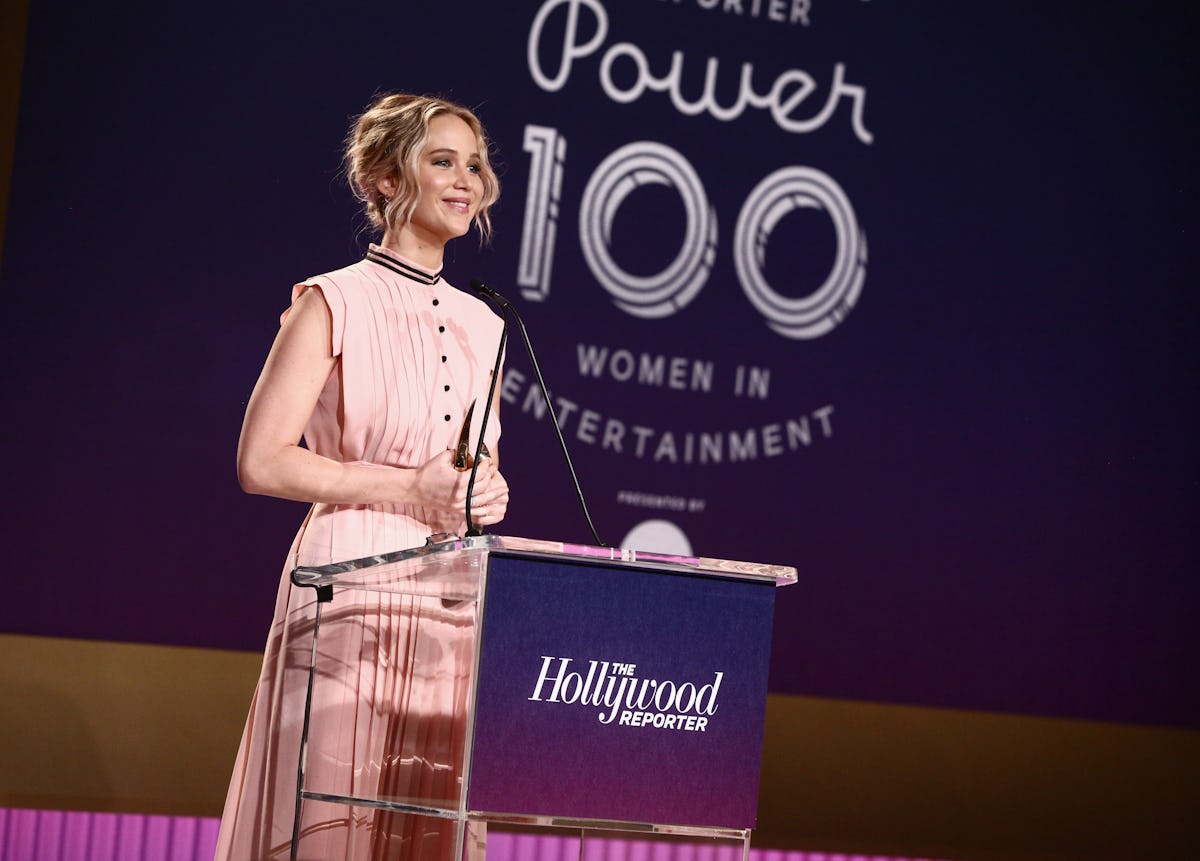 Donald Trump Jr. Tweeted About Jennifer Lawrence & We're So Confused
Rich Fury/Getty Images Entertainment/Getty Images
It's no secret that some in Hollywood aren't big fans of Donald Trump. In an interview published Dec. 6, Oprah Winfrey's conversation with Jennifer Lawrence turned political. But things escalated when Donald Trump Jr. tweeted about Jennifer Lawrence, and what he said made everyone uncomfortable. Elite Daily reached out to the Trump Organization for comment on the tweet but did not hear back at time of publication.
The interview with Lawrence, published by The Hollywood Reporter for its "Women in Entertainment" issue, was a follow-up to one that took place at Winfrey's home on Oct. 5. (The interview, by the way, sounds like the kind of three-and-a-half hour life-changing lunch you'd expect from the super-popular talk show host.) The 27-year-old actress is most known for her roles in The Hunger Games, Silver Linings Playbook, American Hustle, and most recently, Mother!
The conversation dove into topics like sexual harassment and politics, and that's when things got interesting. When Winfrey asked if Lawrence would want to meet the President of the United States, the actress made it pretty clear where she stood. "I think so," she said. "I've got a pretty good speech, and it ends with a martini to the face."
Winfrey followed up, asking if Lawrence would be prepared for such an interaction. "Oh, I would, definitely," Lawrence said. "Oh, my god, I've been waiting for this moment. I'll give you a hint — it's not nice. You wouldn't want me to say it to you."
But the president's eldest son seemed to take Lawrence's quotes a bit too personally. On Twitter, Donald Trump Jr. shared a tweet by the The Hill in which Lawrence's martini quote was cited. Trump Jr. added, "I'm pretty sure that's not how it would end..." Though incredibly vague and open-ended, lots of people interpreted his comment as a threat.
The floodgates opened, and Trump Jr. began getting a virtual earful. "You're right, it would probably end with your dad sexually assaulting her," one user commented, referencing the multiple allegations of assault and harassment currently lodged against the president. (The White House's official stance is that the women making accusations are lying.)
"Yep... He is into that kind of thing," wrote one user in a reply to his tweet, sharing the infamous quote from Access Hollywood tape in which President Donald Trump said he grabs women by the genitals when pursuing them.
"It would end with Donald sexually harrassing her," another user replied. At last count, there were 19 people who had accused Trump of sexual misconduct, according to The Atlantic. Summer Vervos, one of the alleged victims and a former contestant on The Apprentice, is suing the president for defamation after denying her claim and calling her a liar.
It's unclear what Trump Jr. meant by his comment, and the ellipses at the end didn't give us much more to go on. And one user even dolled out legal advice given the exchange. "Make sure you get attorney-client privilege for whatever you're implying on the other side of that ellipsis," he wrote.
Another user took Trump Jr.'s tweet as a chance to troll him over the Russia investigation, sharing a doctored meme of the Trump family and his White House entourage in prison.
Lawrence isn't shy about her political views. Just after last year's presidential election, she penned an op-ed for Broadly encouraging people to raise their voices.
Lawrence also spoke more generally with Winfrey about her passion for politics, which she says "has almost turned into an obsession." She adds, "As you feel settled with your home and your personal life, you're looking at the world and going, 'How in the hell do I fix this? What do we do?'"
Though Trump Jr. tried to pick a Twitter fight with the actress, it appears that Lawrence wasn't having any of it; she hasn't responded to his oddly threatening tweet on the social media platform, instead sharing a heartwarming photo of her and Winfrey.