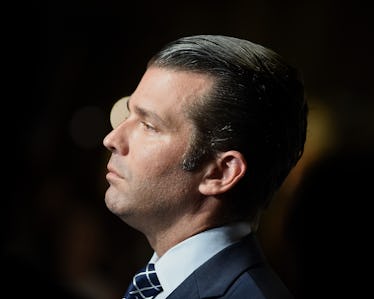 Donald Trump Jr. Actually Just Said He Fears For His Sons After The Kavanaugh Hearing
Shannon Finney/Getty Images Entertainment/Getty Images
Just when we thought tensions couldn't get any higher in 2018, here's another development for you. On Monday, Oct. 1, Donald Trump Jr. appeared alongside Kimberly Guilfoyle to speak with The Daily Mail about the current drama surrounding the Supreme Court confirmation vote, and Donald Trump Jr.'s comments on the Kavanaugh hearing are completely misguided. Another day, another controversy.
On Oct. 1, Don Jr. and his girlfriend/Fox co-host Kimberly Guilfoyle appeared in their first joint interview together while speaking to The Daily Mail. In the beginning, the couple was probably excited to be interviewing together, but things took a serious turn when the topic of Kavanaugh's alleged sexual misconduct allegations came into conversation. (Kavanaugh has denied all allegations. Elite Daily reached out to Kavanaugh's team for comment but did not hear back by the time of publication.) When the publication asked Trump Jr. who he's most scared for in light of these allegations - his daughters or sons, Trump Jr. boldly declared that Kavanaugh's recent drama makes him "fear for his sons" more so than his daughters. Elite Daily reached out to Trump Jr.'s team for comment but did not hear back by the time of publication.
Trump Jr. is the father of five children: Kai, Donald III, Tristan, Spencer, and Chloe. So, as the father of two young girls, one might assume that the eldest Trump heir wouldn't be so quick to take Kavanaugh's side in this ordeal, or would at least try to understand Ford's allegations before rushing to pass judgement on the professor. Well, apparently that's not the case.
Am I the only one whose blood is totally boiling? Trump Jr. may have been completely in his element during this interview, but I have to admit that Guilfoyle actually impressed me while speaking to The Daily Mail. During the interview, Guilfoyle, a former prosecutor, voiced her support for an FBI investigation into Christine Blasey Ford's allegations against Kavanaugh, and thinks the accusers should get a "fair shot." She said,
I think it's important, in terms of doing an investigation, to get the facts out there and find out. It's very tough 35 years later, but it doesn't mean it should be ignored.
Trump Jr.'s comment about fearing for his sons is problematic in many regards. Not only does it completely belittle serious sexual assault experiences and allegations against truly guilty men, but it takes away all responsibility from their actions. The phrase "boys will be boys" has been a historically problematic phrase throughout history, mainly because it normalizes inappropriate actions committed by young men, which leads them to believe it's OK. So I have to ask, by trying to coddle and protect men from sexual assault allegations, like Trump Jr. apparently wants to do, does that give the impression that sexual misconduct is OK as long as they don't get caught?
As of Monday, Oct. 1, three women have come forward to accuse Supreme Court nominee Kavanaugh of alleged sexual misconduct. Elite Daily reached out to the White House for comment about the allegations at the time of the respective reports, but did not hear back in time for publication. The recent headlines — as well as Ford's testimony on Thursday, Sept. 27 — have surely been difficult for survivors to see, but it's also awakened a new revolution among individuals fighting for women's rights. From confronting senators face-to-face to donating to organizations supporting sexual assault survivors, change is happening.
So Don Jr., fear for your sons. These people fighting for women's rights will be protecting your daughters.