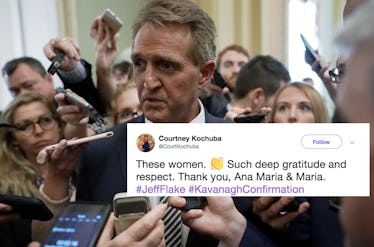 Twitter's Emotional Praise For The Women Who Confronted Jeff Flake Has Me In Tears
Alex Wong/Getty Images News/Getty Images
When Arizona Sen. Jeff Flake announced that he would be voting for Supreme Court nominee Brett Kavanaugh, despite the various sexual assault allegations against the judge (which he has categorically denied), he did so to great backlash. Two women who say they have survived sexual assaults even confronted him in an emotional moment that was caught on camera and quickly shared online, prompting some of the most moving responses. Seriously, the tweets about two sexual assault survivors confronting Jeff Flake are nothing but gratitude for the protesters.
In case you missed it, Flake initially planned on voting in favor of Kavanaugh before the Senate Judiciary Committee on Friday, Sept. 28. However, just moments before the vote was scheduled, the senator was cornered and confronted by two protesters in a Capitol Hill elevator, who told him that they were survivors of sexual assault and pleaded for him to reconsider his vote. Per reports from CNN, the two women at the elevator were Ana Maria Archila and Maria Gallagher. Archila said it was "intolerable" that Flake was voting for someone accused of such crimes to sit on the Supreme Court. Gallagher said through tears that if Flake voted to confirm Brett Kavanaugh, the Republican senator would be "telling me that my assault doesn't matter." The moment appeared to have an impact on Flake because, although he voted earlier to refer Kavanaugh's nomination to the full Senate, he said he might ultimately oppose the judge without further FBI investigation into his sexual assault allegations.
Here's the confrontation:
Given Flake's sudden change of heart, many people rushed to Twitter to thank the women to share their stories.
"Bravery comes in all forms, when we least expect it, when we need it most."
Later on Friday, following Flake's last-minute decision, Republicans and President Donald Trump agreed to delay Kavanaugh's vote for one week so the FBI can investigate the claims leveled against him. The vote was initially expected to be held on either Monday, Oct. 1 or Tuesday, Oct. 2, according to USA Today. "I've ordered the FBI to conduct a supplemental investigation to update Judge Kavanaugh's file," Trump said in a statement. "As the Senate has requested, this update must be limited in scope and completed in less than one week."
The FBI will reportedly be investigating the claims of California professor Christine Blasey Ford, who went public with her story on Sept. 14. According to her, an intoxicated Kavanaugh allegedly locked her in a room at a gathering of friends, pinned her on a bed and sexually assaulted her back in the 1980s when they were in high school. Although she says she is "100 percent" sure Kavanaugh was the perpetrator, he has vehemently denied her claims. "This is a completely false allegation. I have never done anything like what the accuser describes — to her or anyone," Kavanaugh said in a statement, per CNBC. His representatives did not respond to Elite Daily's request for further comment.
According to CNN, the FBI will also look into the claims of another woman, Deborah Ramirez, who alleges that Kavanaugh exposed himself to her and thrust his genitals into her face, causing her to touch them without consent, while they were undergraduate students at Yale. Kavanaugh has also denied the allegation. "This alleged event from 35 years ago did not happen," he said in a statement. "The people who knew me then know this did not happen and have said so. This is a smear, plain and simple." Elite Daily reached out to his representatives for further comment at the time, but did not receive a reply.
While Kavanaugh's advancement to the full Senate might be seen as a blow to some people, perhaps they'll find solace in the bravery and apparent impact of these two women and their stories — no matter what the outcome is.