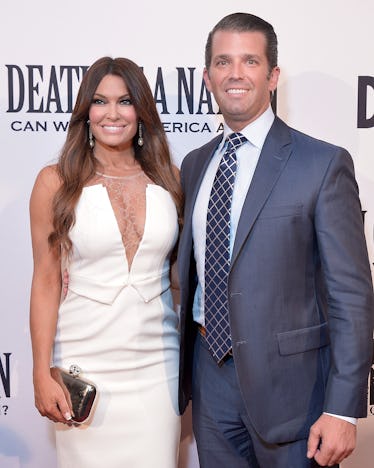 Donald Trump Jr. & Kimberly Guilfoyle Reportedly Have Pet Names For Each Other, So That's Something
Shannon Finney/Getty Images Entertainment/Getty Images
Full disclosure: I'm not a huge fan of cutesy couple pet names. Tell me if I'm wrong, but often times they come off as way more cheesy (read: nauseating) than they do cute. To better illustrate my point, I just learned that Donald Trump Jr. and Kimberly Guilfoyle reportedly have pet names for each other, and I think I'll let all of you be the judge of whether they're cute or cheesy (or nauseating). I know where I stand.
Sometimes I'll run across a piece of news that makes me say, "well, I guess I know that now." One of those moments happened when Page Six reported that the eldest Trump son and former Fox News anchor Guilfoyle reportedly have couple pet names for eachother. According to the report, a source overheard Guilfoyle calling Trump Jr. "Junior Mint" in Southampton over the weekend. Don't worry, Trump Jr. has a nickname for her as well, albeit less inventice, and it's "Pooh Bear." So I guess there's your confirmation on who the creative one in the relationship is.
I'm going to go out on a limb here and say that "Junior Mint" has nothing to do with the popular candy — and if it does I don't want to know about it. Truthfully, I don't think anyone else does either.
Then again, Trump Jr. and Guilfoyle are in prime territory for stupid pet names, given that they've only been dating for a few months. The couple got together after Trump Jr. and his ex-wife Vanessa Trump called it quits back in March after 12 years of marriage. In a joint statement to Elite Daily at the time, the couple said,
After 12 years of marriage, we have decided to go our separate ways. We will always have tremendous respect for each other and our families. We have five beautiful children together and they remain our top priority. We ask for your privacy during this time.
A few months later the rumor mill started whirring with news that Trump Jr. had begun dating Guilfoyle, which some folks weren't too happy about given that she worked for Fox News and was reporting on the Trump family while they were dating off-air. But you know who didn't seem at all irked by the relationship? Vanessa. After a scathing June piece from The New York Daily News calling for Fox to fire Guilfoyle, Vanessa came to Guilfoyle's defense in a June tweet. Classy move, Vanessa. She wrote,
The lengths people will go to attack a woman simply because she's dating Don. We've been separated for over 9 months and respect each other's decisions & privacy. We'll focus on raising our great kids.Would be nice if the press did the same rather than obsess over our pvt lives!
Before Vanessa pretty much spilled the beans that her ex hubby and Guilfoyle were an item (because if it were just a rumor, why would she tweet about it?), neither party had publicly confirmed or denied their relationship. In May, however, Page Six reported that the eldest Trump son was cuddling up with Guilfoyle. A source reportedly told the publication that they're "having a great time" together and that the eldest Trump son "enjoys [Guilfoyle's] company." The source said,
Don Jr. and Kimberly are seeing each other, and are having a great time. While he wants to respect the privacy of his family, he is getting divorced, and he enjoys Kimberly's company.
Now all that's left to figure out is at what point in the relationship the pet names popped up. Bets?