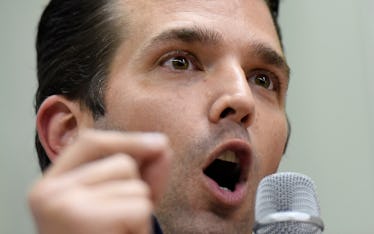 Donald Trump Jr. Got A Gun Permit While Everyone Was Debating Gun Reform, Report Says
David Becker/Getty Images News/Getty Images
Obviously, people have their own opinions and beliefs about gun reform. But considering the topic is currently such a sensitive issue in our country, I wouldn't expect people to just run out and purchase guns. (Or maybe I would since there's a possibility that it could be tougher to buy weapons in the future.) IDK, but in the middle of the debate surrounding gun reform, Donald Trump Jr. got a concealed carry permit, reports say, and I'm shook.
Page Six reported that Trump applied for the permit in Lackawanna County, Pennsylvania and was issued it right before his wife, Vanessa Trump, filed for divorce on March 15. The permit reportedly lasts for five years, and is accepted in several states around the country, although not in New York, where Trump resides. Elite Daily reached out to the Trump Organization for comment, but did not hear back by the time of publication.
A source told Page Six that it "isn't clear why Don Jr. applied for a permit in Pennsylvania. But there is speculation that he didn't do it in New York because you have to supply financials." The publication added that according to New York Police Department guidelines, those financials might include tax returns from the state — and of course, the Trumps are notoriously reticent about sharing those kinds of documents. So perhaps Trump finessed his way around the guidelines by filing for a permit in Pennsylvania.
Trump's permit comes amid widespread anti-gun violence protests.
Following the school shooting at Marjory Stoneman Douglas High School in Parkland, Florida on Feb. 14, student survivors and others organized nationwide marches to call for stricter gun control legislation — one event being March For Our Lives. which was held on March 24. Part of the event's mission statement reads,
School safety is not a political issue. There cannot be two sides to doing everything in our power to ensure the lives and futures of children who are at risk of dying when they should be learning, playing, and growing. The mission and focus of March For Our Lives is to demand that a comprehensive and effective bill be immediately brought before Congress to address these gun issues. No special interest group, no political agenda is more critical than timely passage of legislation to effectively address the gun violence issues that are rampant in our country.
Considering that kids are talking about how they're afraid of dying when they should be "learning, playing, and growing," you would think it would be an awkward time to get a gun permit. I mean, honestly, why would Trump get his permit in the middle of these heated discussions? When there are conversations about gun control and gun violence on television or social media or on radios every few minutes? And hundreds of anti-gun violence rallies being planned around the entire world? I'm not buying it.
Trump is, very publicly, pro-gun.
In the midst of the gun control debate following the Parkland shooting, President Donald Trump Sr. moved to ban bump stocks, which allow certain weapons to shoot at faster rates. He also signed off on funding for reformed background checks, according to The Hill. But, instead working toward stricter gun legislation, Trump advised his father to "stay strong on gun rights," The Daily Beast reported. In February 2018, Trump also "liked" a tweet that suggested that David Hogg, a surviving student of the Parkland shooting and vocal advocate for gun legislation reform, could not be trusted because his father was a former FBI agent, per BuzzFeed. All of his most recent actions related to gun control make his new permit kind of seem more intentional than just a random occurrence.
But considering who we're talking about here, I'm sure that we'll hear a little more about this in no time. Actually, BRB, I'm gonna see if he "liked" any conspiracies about his permit on Twitter.