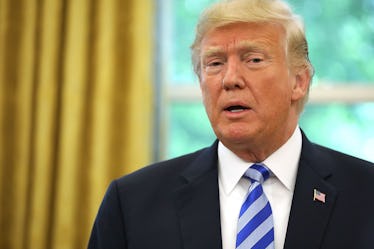 Trump Reportedly Flunked A Mock Interview About Russia, Which Is Bad News For Him
Chip Somodevilla/Getty Images News/Getty Images
There's nothing juicier than the release of a a tell-all book, especially if Donald Trump is involved somehow. Recently, parts of Washington Post reporter Bob Woodward's upcoming book Fear: Trump in the White House leaked early, and there's some very interesting tea being spilled among its pages. According to Woodward's book, Donald Trump failed a mock interview with Robert Mueller's Russia investigation, so who knows how this investigation will pan out. Elite Daily reached out to the White House for comment about the alleged mock interview, but did not hear back in time for publication.
According to The New York Times, copies of Woodward's book, which is set to be released on Sept. 11, were leaked to reporters a week early on Tuesday, Sep. 4. Among multiple reports in the book, Trump and his attorney John Dowd reportedly staged a mock interview between Trump and Mueller in January, but it reportedly didn't go so well. Instead of keeping his cool, Trump reportedly fumbled each question, continuously contradicted himself, and would often start reportedly insulting former F.B.I. director James B. Comey and the entire Russian investigation in general, according to Woodward.
In response to the book and its claims, White House Press Secretary Sarah Huckabee Sanders released a statement on Sept. 4 claiming that the book is "fabricated." She said,
This book is nothing more than fabricated stories, many by former disgruntled employees, told to make the President look bad. While it is not always pretty, and rare that the press actually covers it, President Trump has broken through the bureaucratic process to deliver unprecedented successes for the American people. Sometimes it is unconventional, but he always gets results. Democrats and their allies in the media understand the President's policies are working and with success like this, no one can beat him in 2020 — not even close.
On Sept. 5, Trump echoed Sanders' statement about the book's stories being fake when he addressed the claims via Twitter.
Fear: Trump in the White House marks one of three books this year that have called out Trump's controversial run in the White House. In January, reporter Michael Wolff released his book Fire and Fury, which detailed his experience working with Trump during his 2016 presidential election campaign. Overall, the book gives a grim outlook about the campaign trail (and reveals Trump's reported love of fast food). In response, Trump took to Twitter a day later revealing that he didn't allow Wolff within the White House and called the book "phony."
In addition to Wolff's book, former White House Director of Communications for the Office of Public Liaison Omarosa Manigault released her tell-all book Unhinged in late August. However, it was the events leading up the book release that sparked headlines. In August, Manigault started leaking alleged recordings of her conversations with White House staffers, including White House Chief of Staff John Kelly. Elite Daily reached out to the White House about the recordings at the time, but did not hear back. As a former White House staffer and former contestant on Trump's reality television series The Apprentice, it's no surprise that the United States' leader would be upset by the apparent "betrayal." However, on Aug. 13, Trump went on a rant about Manigault's alleged tapes, and they're passionate to say the least.
Whether Bob Woodward's book is true or not, it's bad news for Trump either way. Tea is being spilled faster than we can pour it. We'll see how this unfolds.