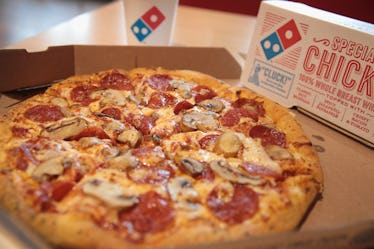 Domino's Will Now Meet You Anywhere To Deliver A Pizza, So Order At The Beach
Scott Olson/Getty Images News/Getty Images
Your late-night pizza craving is about to take on whole new meaning thanks to a recent announcement from Domino's Pizza on Monday, April 16. The world's largest pizza chain will now deliver pies to you, even without an address. Yep, you read that right. You could be maxin' and relaxin' under your beach umbrella or standing on the corner waiting to take the bus home from work, and Domino's will deliver you a hot, fresh pizza pie. The news is almost too good to be true.
In what might just be one of the greatest technological advances of our time, the pizza chain is utilizing its Domino's Hotspots technology to deliver pizza to customers across the U.S. who don't have a traditional physical address (such as an apartment, home or office).
The pie shop, headquartered in Ann Arbor, Michigan, has over 150,000 active hotspots for delivery, according to a press release. Domino's Hotspots are predetermined pick-up locations where delivery drivers can meet up with hungry customers to give them their order. So whether you're hanging out with friends at your favorite park and hunger strikes, or if you're soaking up the sun on a white sandy beach, pizza will only be a click away.
"We listened to customers and their need for pizza delivery to locations without a traditional address," said Russell Weiner, president of Domino's USA. "We know that delivery is all about convenience, and Domino's Hotspots are an innovation that is all about flexible delivery options for customers."
There's no question that this a major change to the pizza delivery game. After all, if you can order McDonald's on Uber, it's about time you can order a pizza to the beach. So, how exactly does it work? For starters, in order to take advantage of this totally awesome service, you must place your order online or in the Domino's Pizza mobile app. If you don't have the app, get to downloading. Make sure you have location services turned on, because this will help determine your location using GPS technology to help you select the closest store that can accommodate your order. Nobody wants a cold pizza, amiright?
Before you check out, you will have the option to leave a few tidbits of advice for your delivery driver so that they can easily find you. Is that you in the green t-shirt sitting on the bench at the park? Or are you the one under the polka dot umbrella sitting in a red beach chair? No set of instructions is too detailed. Once you click pay, you'll get real-time updates in the form of text message alerts about your pizza's progress and ETA (so you don't have to waste any time wondering when your next meal will arrive).
Assuming the delivery menu is the same as Domino's standard takeout menu, your go-to items will be available to order. Think of it as a whole new way to picnic. Several popular Domino's Hotspots include Tommy Lasorda Field of Dreams in Los Angeles or the James Brown statue in Augusta, Georgia. Don't live nearby either of those locations? Not to worry. Remember, there are 150,000 hotspots throughout the country. Check out the Domino's Hotspots near you and start planning your next feast.
Gotta be honest, this announcement might just trump the fact that Domino's was testing self-driving cars for pizza delivery last year or using Amazon's Alexa to order food from the pizza company. With the weather warming up and the sweet taste of summer roughly eight weeks away, we can only dream of how this will change the game during those relaxing vacation months.
BRB while I place my order.