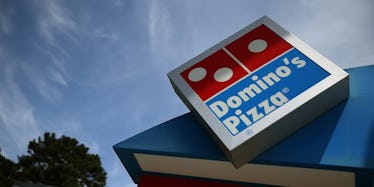 Domino's Is Testing Self-Driving Delivery Cars Because This Is The Future Of Pizza
Justin Sullivan/ Getty Images
You guys, the future of pizza is here. You might find yourself wondering where your fave delivery person is the next time you go outside to pick up your pizza order, because Domino's is about to shake up the delivery game. Domino's self-driving delivery cars are being tested, and your Friday night pizza is about to get very high tech.
According to its website, Domino's is partnering with Ford to test out a Ford Fusion Hybrid Autonomous Research Vehicle. Pizza-lovers in Ann Arbor, Michigan, are about to get lucky because the pizza chain will be rolling out the vehicles in their town throughout next few weeks. Randomly selected Domino's customers will have the option to receive their order from the delivery vehicle. Since this is still the testing phase, the cars won't be totally human free -- there will be a Ford safety engineer driving the car (because we are not totally living in Back To The Future, yet).
If you are chosen as a participant in the study, you will track your order using an upgraded version of the Domino's Tracker, then you'll receive text messages that tell you how you retrieve your pizza. Finally, you will receive a text with a unique code that unlocks Domino's Heatwave Compartment, which houses your precious pizza inside the vehicle.
The president of Domino's USA, Russell Weiner, explained what they hope learn about the "self-driving" delivery cars in a press statement. He said,
The majority of our questions are about the last 50 feet of the delivery experience. For instance, how will customers react to coming outside to get their food? We need to make sure the interface is clear and simple. We need to understand if a customer's experience is different if the car is parked in the driveway versus next to the curb. All of our testing research is focused on our goal to someday make deliveries with self-driving vehicles as seamless and customer-friendly as possible.
Here's to hoping the testing is fruitful, because Ford plans to begin production of the self-driving vehicles in 2021.