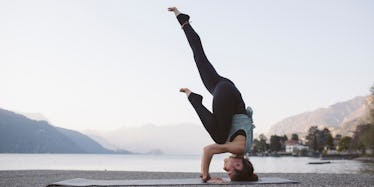 The Yoga Flow You Need To Boost Your Brain Power When Your Mind Feels Fuzzy
Including some strengthening and relaxing yoga in your life can do an incredible amount of good for both your body and your mind. If you've ever rolled out your mat and let your breath guide you from one asana to the next, you know how incredibly focused, centered, and entirely calm the practice can make you feel. What you probably didn't know, though, is that those few minutes of yoga can make you smarter in the long-term, thanks to its many brain-boosting benefits.
While it's true that I'm most likely biased about this because I'm a yoga teacher — one who rarely skips a day on my mat, mind you — it really is a proven fact that yoga can have a highly beneficial impact on your brain. According to findings from a 2013 study carried out by researchers at the University of Illinois at Urbana-Champaign, a simple 20 minutes of yoga can stimulate brain function immediately after finishing the practice.
Lead researcher on the study Neha Gothe described the findings to the University of Illinois News Bureau,
It appears that following yoga practice, the participants were better able to focus their mental resources, process information quickly, more accurately and also learn, hold and update pieces of information more effectively than after performing an aerobic exercise bout.
The science doesn't lie, my friends. The next time you feel like your brain needs a boost, try flowing through this simple and rejuvenating yoga sequence. You can thank me later.