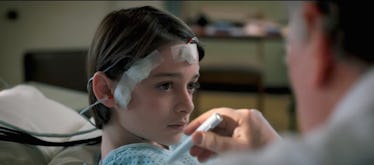 New 'Stranger Things' Season 2 Trailer Has Fans Worried For Will Byers
Netflix/YouTube
Stranger Things is creeping back in to our lives in only a few short weeks, and the final trailer is filling us with extreme excitement... and a little bit of worry. Is Will OK? Will Joyce ever get a moment of peace? Look at all these new people! There is so much going on the final Stranger Things Season 2 trailer that our heads are turning upside down. Yes, we went there.
"On Halloween night, Will saw a sort of shadow. Maybe all this is happening for a reason." You bet it is, but what exactly is "all this"? According to the clip, which is under three minutes but jam-packed with action, the happenings of Hawkins, Indiana are clearly only getting more extreme. Will is struggling for dear life in the aftermath of all he went through in the Upside Down. We get glimpses of him in a hospital bed as his mother looks on with fear and distress. Duh. We see a scary AF tentacled monster the size of a building. We meet Dr. Paul Reiser. Apparently it's "judgement day" and nobody is going to back down. And OMG, here comes Eleven. She and her perm are back with a vengeance.
Not only are we reunited with our favorite psychokinetic tween, we get to see new Stranger Things characters in action. Everything is reaching a fever pitch "which is why we need as much help as we can get," Lucas explains. Max to the rescue? The guys' new red-headed buddy gets some serious screen-time in this trailer. There's also Sean Astin as Joyce's love interest and local RadioShack employee, Bob. Apparently he's going to be the "Barb of Season 2" so, WATCH OUT, BOB. He's making a lot of scared faces and comforting Joyce. Cute? There are a few flashes of bad boy newbie Billy, played by Dacre Montgomery. And there's also Paul Reiser — that's Dr. Owens to you now, and we don't exactly trust him yet because this show has a history of lab coats = not good.
OK, back to what we do know. Things are out of control. There's only one person who can understand, Mike says. Enter: Eleven. Keys? Who needs keys? This girl can undo a lock with her mind, so don't even try to shut her out, people. Here she comes with those Eggos in tow. This is gonna be good, guys.
Also, Will is not doing so well. "What is wrong with my boy?" Joyce screams in anger. And while her boy spent most of last season hidden away in an alternate dimension, this time he's front and center of it all. "If anyone can destroy this thing, it's Will," says Mike, bringing the wisdom again. You hear that, Will?!
"Will Byers is very much at the center of several intersecting challenges and threats in Season 2, and I think overall the kind of forces of evil that are inherent in Season 2 make that Demogorgon look quaint in retrospect," Executive Producer Shawn Levy previously told Gold Derby of the upcoming episodes.
Season 2 is going to be "very dark" according to Millie Bobbie Brown and "even more intense," as Matt Duffer has stated. And we believe them, since these trailers and sneak peeks are definitely taking things up a notch. Apparently the world is about to end, in the words of Nancy (Natalia Dyer) from this latest clip, and that's kind of a big deal.
Stranger Things starts streaming on Netflix on Oct. 27 just in time for Halloween. We'll be watching and keeping our eyes out for any "shadow"-like visions a la Will. Yikes.