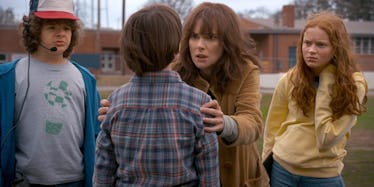 'Stranger Things' Season 2 Will Show A "Sinful" Side Of Will Beyers, So Watch Out
Netflix
You know that thing when you're sucked into an parallel dimension by an evil voracious monster only to be returned to your home seemingly safe and sound, though clearly changed forever? Nah? Will Byers does, and it will only get stranger for Stranger Things' Will Byers in Season 2, according to show creator Ross Duffer.
Will didn't have much Season 1 screen time and was absent for much of the action for the sheer fact that he was chillin' in the Upside Down communicating through Christmas lights, as one apparently does in a situation of this nature. But from the rumblings and the sneak peeks, eager fans have gotten wind of so far, it looks like Will's visibility will be increased and the aftermath of everything he went through will be a major part of this continuously mysterious story. Ross Duffer, one-half of the talented Duffer Brothers who write, produce, and direct the sci-fi hit, revealed to Us Weekly that we can expect to see another side of Will (Noah Schnapp) this upcoming season. He explained,
Will Byers, who was sort of trapped in the Upside Down for most of Season 1, now has a much more sinful role, which we're really excited about.
Dang. Joyce Byers is not going to be happy about this.
"Noah is just an incredible actor and he really didn't get a lot to do Season 1," Duffer went on to say. "So we're excited about that."
As are we, Ross. As are we. "It's a lot darker and scarier," Schnapp told EW of the upcoming episodes while at Comic-Con.
Season 2 has been kept somewhat under wraps, but we do know there will be new scares, as well as new characters that will have to earn the audience's trust. The trailer is chock full of intriguing nibbles, including some insight into how things are progressing for Will in the aftermath of his insanely terrifying ordeal. Hint? Not great.
In the juicy clip, we hear a whisper calling his name and then some crazy stuff goes down. Then, boom. It's all good. Was this vision a post-traumatic dream… or has the real-life nightmare only just begun? "I saw something. I felt it everywhere," Will tearfully reveals to his mom. Oh, no. Will was just the tipping off point. "What does it want?" she later asks. "Not me," he says. "Everyone else."
Be afraid, Hawkins. Be very afraid.
"It's even more intense," Ross Duffer previously divulged to Deadline. "But it's interesting because we get to spend some time with our characters when they're not worried about their lost friend. We get to see some other sides to them upfront."
As amazing as Season 1 was, it's exciting to know that the "We have to find Will!" moments that were integral to the foundation of this saga will no longer be necessary, and that fans will be able to get to know the characters in another light.
Executive Producer Shawn Levy has also spoken about Will's forthcoming role and how it will affect the course of the narrative. He told Gold Derby,
Will Byers is very much at the center of several intersecting challenges and threats in Season 2, and I think overall the kind of forces of evil that are inherent in Season 2 make that Demogorgon look quaint in retrospect.
Quaint? Yikes. When we saw Will in the season finale he was coughing up a freaky, stomach-churning, slug-like creature. It appears that was the easy part.
Stranger Things Season 2 begins streaming on Netflix on Friday, Oct. 27, just in time for a Halloween weekend binge. There's even a very small window to throw together a costume that pertains to the latest episodes... if you watch it real fast. We believe in you.
Check out the entire Gen Why series and other videos on Facebook and the Bustle app across Apple TV, Roku, and Amazon Fire TV.