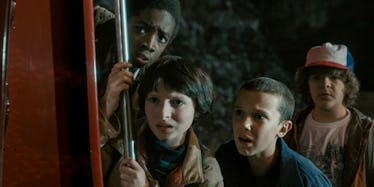 7 Last-Minute 'Stranger Things' Halloween Costumes To Wear With Your Squad
Netflix
With Halloween fast approaching, you might think you're running out of time to pull off the perfect costume. If you need a little inspo, look no further than the Netflix '80s nostalgia-fest obsession to pull together these last-minute Stranger Things Halloween costumes like a pro. The best part about Stranger Things Halloween costumes is that there are a number of characters, so this is a great idea for the whole squad.
It's also relatively easy to scour thrift shops and online sources to pull all the costume pieces together. Think '80s fashion and you should be able to easily recreate your favorite Stranger Things characters with very little effort... and you'll definitely be the hit of any Halloween party.
Whether you've got a smaller squad that features Eleven, Lucas, Mike, Will, and Dustin, or you've got a big group that can take on many roles, adding characters like fan-favorite Barb, over-the-top mom Joyce, or teens Nancy, Steve, or Jonathan, there are so many options with this big ensemble cast. Of course, if your squad gets separated, your costume choices might not make as much sense by themselves, so it might be best to stick together. You wouldn't want to lose anyone to the Upside Down, would you?
1. Eleven
The go-to look for Eleven is the signature blonde wig, pink dress, blue jacket, and boys' tube socks. Oh, and don't forget a drip of blood coming out of your nose to really convey all that telekinetic power. And waffles! The dress is the trickiest bit of this costume, since finding the smocked '80s style dress with a Peter Pan collar can be a challenge, but pairing any pastel pink dress with a navy jacket that resembles her character's outfit is close enough.
2. Lucas
While Lucas' outfit might not give you much distinct to work with, you can add some accessories here to make the look more identifiable. Think camo headband, walkie talkie, and/or slingshot to complete the standard '80s clothing. These two character have pretty standard issue '80s shirts and jackets and not much else to really stand out, but as part of a group costume, you need Lucas and Mike.
3. Mike
Mike is another character who's pretty plain in his styling, but you've gotta have a Mike in your Stranger Things squad! A standard striped polo shirt and khaki jacket are a solid choice.
4. Dustin
Dustin's look probably rides about 90 percent on a great curly wig and a standard trucker cap to sell it. Add a dark colored jacket and a backpack and the look's complete.
5. Will
Will is another character that's got that All-American kid look, but you can easily recreate his jeans, plaid shirt with thermal underneath, and red vest using thrift store finds.
6. Barb
Justice for Barb is important, even on Halloween, so you'll want to do her costume, well... justice. A ruffled plaid shirt, mom jeans, and a big old pair of glasses are a good start. Grab yourself an old school Trapper Keeper and you'll be a full-on Barb!
7. Joyce Byers
If anyone in your squad wants to channel their inner mom, assign them the unhinged Winona Ryder character. Make sure you include Christmas lights and an alphabet wall if possible to take the costume totally next-level.